Holidays and traditions go hand in hand. It doesn't feel like the holiday season until we've celebrated with some of our family favorites. I'm sure many of you look forward to similar experiences to usher in the season, but if you're new to North Carolina or looking for a new one to add, here are some of our top picks!
FENTON: It's decked out with Christmas decor, an ice rink, and great food all within walking distance. Plus Santa typically stops in. It's a great place to take visitors in town for the holiday.
HOLIDAY LIGHTS AT PULLEN PARK: Pullen Park has thousands of colorful lights during the holiday season, perfect for a leisurely stroll with a cup of hot cocoa. The popular Holiday Express train ride takes visitors through the park to enjoy the festive atmosphere. Tickets sell out within minutes, so check around for resale tickets, and be sure to mark your calendar for next year's sale date (typically early October).
CHRISTMAS TREE LIGHTING AT NORTH HILLS: Live music and tasty treats accompany the magical moment when the tree is lit for the first time with Santa. Lots of other local towns and communities host their own tree lightings, so check local times and days to find one that works for you.
TRIANGLE PARADE OF HOMES: This annual event showcases beautifully decorated homes in the Raleigh-Durham area. Take a self-guided tour to explore stunning holiday decorations and get inspiration for your own home.
CHINESE LANTERN FESTIVAL: This annual festival at Koka Booth Amphitheatre features colorful lanterns, cultural performances, and interactive displays, making it a perfect holiday tradition for all ages. And it runs through Jan. 14, giving you a chance to carry the holiday spirit into the new year.
HISTORIC OAKWOOD CANDLELIGHT TOUR: Explore the Historic Oakwood neighborhood in downtown Raleigh during the annual candlelight tour. The beautifully decorated Victorian homes will make you feel like you're on a Hallmark movie set.
GIVE BACK: iHeartMedia partners with Toys for Tots to collect toys for families in the Triangle. I'll also be partnering with MAKO Medical Laboratories for the fourth year in a row on the MAKO Miracle, helping to make sure families have funds to provide Christmas for their kids. Finding an Angel Tree project, toy drive, or place to volunteer adds a layer of meaning to the season.
And of course you can't forget the cookie and ornament exchanges, touring holiday light displays in your neighborhood, and the many town parades throughout the season.
I could take up pages listing the many places we visit throughout the winter months, so it's hard to narrow them down.
Did I miss your favorite holiday activity? Share your must-do traditions @EricaDeLong. Happy holidays!
Travel Traditions
We don't make it to all of these every year, but they hold a special place in my heart. Check them out if you are planning a holiday trip!
CHRISTMAS TOWN USA: The small town of McAdenville, just west of Charlotte, transforms into a magical Christmas wonderland with a vast array of lights, regularly named among the best displays in the nation. Take a drive or stroll through the charming streets and soak in the festive atmosphere. More than 600,000 people visited last year!
CHRISTMAS AT BILTMORE ESTATE: Beautifully decorated rooms, thousands of twinkling lights, and stunning Christmas trees make Biltmore Christmas an event all North Carolinians should experience.
SPEEDWAY CHRISTMAS AT CHARLOTTE MOTOR SPEEDWAY: Head to Charlotte for a unique holiday tradition at the Speedway. Drive through a dazzling light show with synchronized music, visit Santa's Village, and even take a spin around the track with their Christmas-themed attractions.
WINTERFEST AT CAROWINDS: Charlotte's Carowinds amusement park hosts a full-scale holiday celebration. Enjoy ice skating, festive shows, enchanting lights, and meet holiday characters like Frosty the Snowman and Rudolph the Red-Nosed Reindeer. The decked out floats and performances at the nightly WinterFest Wonderland Parade are sure to make memories.
ENCHANTED AIRLIE: Located in Wilmington, Airlie Gardens transforms into a magical winter wonderland. Take a stroll through illuminated gardens, festive displays, and warm up by the fire pit with hot cocoa.
TWEETSIE CHRISTMAS: Blending holiday magic with the park's Wild West theme, Tweetsie Railroad in Blowing Rock offers a twist on the typical festive experience. Enjoy a train ride illuminated by over a million lights, visit Santa's Gingerbread House, and catch the special Christmas variety show.
HOLIDAYS AT THE COAST: North Carolina's coastal towns, such as Wilmington, Beaufort, and Southport, offer festive flotillas, where decorated boats cruise along the waterways, multiplying the magic of the lights. The historic seaside towns also host tree lightings and other holiday festivals.
I could go on and on, but I have to stop somewhere! We have so much to offer here in NC.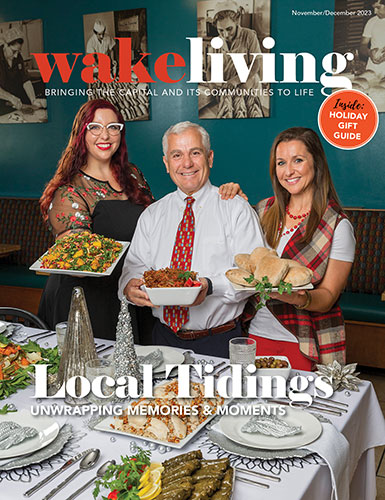 Erica Chats: Holidays in The Triangle