'Tis the time of year for savoring scrumptious feasts and treasuring moments with cherished family and friends. If I were daring enough to invite myself to another family's Christmas celebration, it would undoubtedly be the Saleh family, the founders of the esteemed Lebanese and Mediterranean restaurant Sassool. Mounir, the visionary behind Sassool, and his daughters Simone and Noelle, who also play integral roles, gave me a glimpse of their Christmas traditions. They even generously spilled the beans on their time-honored recipes so you can add a dash of their Christmas magic to your own celebration!
What makes holidays with the Saleh family so special? Picture lavish spreads with courses upon courses of mouth-watering family recipes passed down from matriarch Cecille Saleh. And in the true spirit of Lebanese hospitality, holidays center more around sharing laughter and treasured moments with loved ones than giving gifts.
"It is my favorite when new friends are invited to our house for Christmas or another holiday. You can see the shock in their eyes when they look at all the food displayed as they walk in. And then hours later, the food doubles. Most people look at each other and say, 'I thought we already had dinner,'" said Sassool partner Simone.
The celebration starts with every corner adorned with spreads of flavorful dishes. Cold mezza sets the tone for sharing and grazing, featuring an array of mixed nuts, pickled vegetables, cheeses and olives, and traditional stuffed grape leaves. Small stuffed pita appetizers called sambousik, and an array of salads and dips served with pita leave no appetite unsated.
After hours of merry mingling, the showstoppers emerge: grand platters with baked fish, succulent lamb atop a bed of fragrant rice, and roasted or grilled chicken accompanied by grains. Toasted pine nuts and almonds crown the delectable rice dishes. Ready to invite yourself to the Saleh family Christmas celebration yet?
"Lebanese families will prepare for Christmas gathering together to prepare the meals for their guests. Most of the time it will take a few days ahead of time to prepare everything, and every member of the family will have a role in making this happen," Simone said.
The Sassool journey began when Mounir and his family emigrated from Lebanon when he was 19. They dove right into the restaurant scene in North Carolina, knowing it would be the easiest transition for starting a new business. Although their English was limited, they knew food very well.
Two decades later, Mounir ventured forth from that first family restaurant. He opened Sassool in 2011, hand in hand with his daughters. Mounir's mother, Cecilia Saleh, served as their muse for the concept and menu.
If you're eager to get a taste of a Saleh family holiday, pay a visit to one of their two Sassool restaurants. The warm hospitality of their friendly staff and exquisite dishes will give you a glimpse of their holiday spirit!
Makloube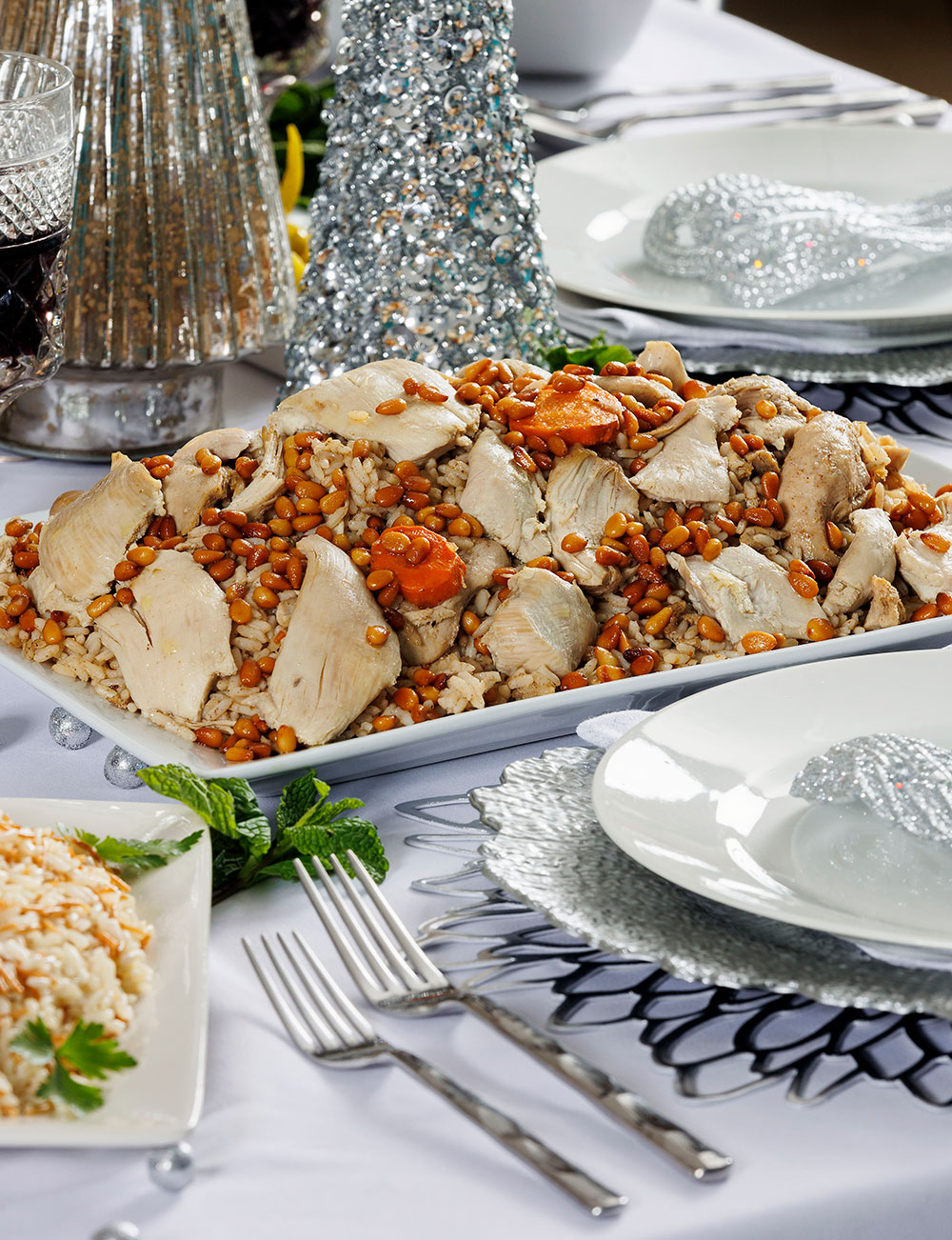 2 pounds chicken, leg and breast
2 tablespoons vegetable oil, divided
3 cups chicken broth
1 ½ cups white rice
2 large carrots, cut into coins
1 yellow onion, diced
2 bay leaves
1 teaspoon salt
1 teaspoon each ground cinnamon, ground cardamom, and ground cumin
1/2 teaspoon black pepper
toasted almonds and/or pine nuts for garnish, if desired
Coat chicken with 1 tablespoon vegetable oil and bake for 25 minutes at 375 degrees.
Coat carrots with 1 tablespoon vegetable oil and bake for 15 minutes at 375 degrees.
In a pot, saute onion until translucent. Add chicken broth, bring to a boil, and add rice and spices. Cover and reduce heat to a simmer.
Remove the chicken from the oven and break into 2-inch pieces (smaller if you prefer). Remove the carrots from the oven.
Place carrots and chicken over rice when it is about 70% done (about 12 minutes into its simmer). Cover and cook 5 minutes more, or until visible liquid has evaporated and rice is done.
Remove the bay leaves and garnish with toasted almonds and/or pine nuts.
Lebanese Green Beans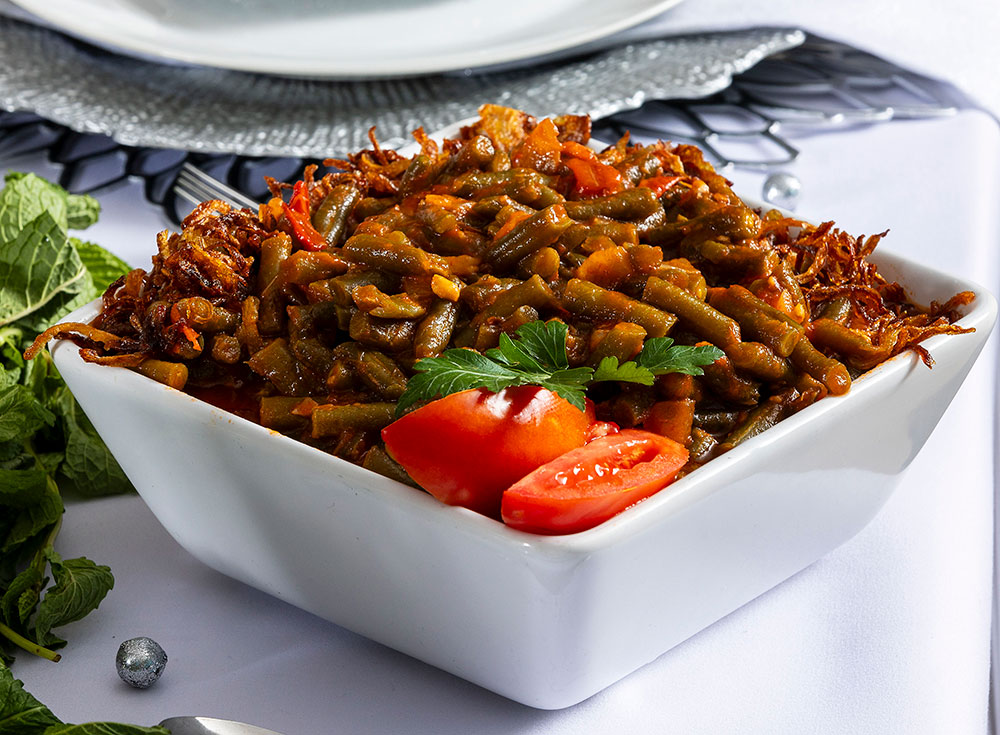 1 cup yellow onion, diced
2 tablespoons vegetable oil
1 tablespoon fresh garlic, diced
1/2 jalapeno, seeded and diced
2 cups tomato, diced
2 pounds green beans
1 cup water
1 teaspoon salt
1 teaspoon black pepper
1 teaspoon allspice
Heat oil in a saute pan. Add the onion and garlic and cook until they are fragrant and the onion is translucent.
Add in the diced tomato, jalapeños, and salt. Cook on medium heat until the tomatoes start to stew together.
Add in the green beans, water, black pepper, and allspice. Cook on low, stirring occasionally, until the liquid thickens.
Pumpkin Salad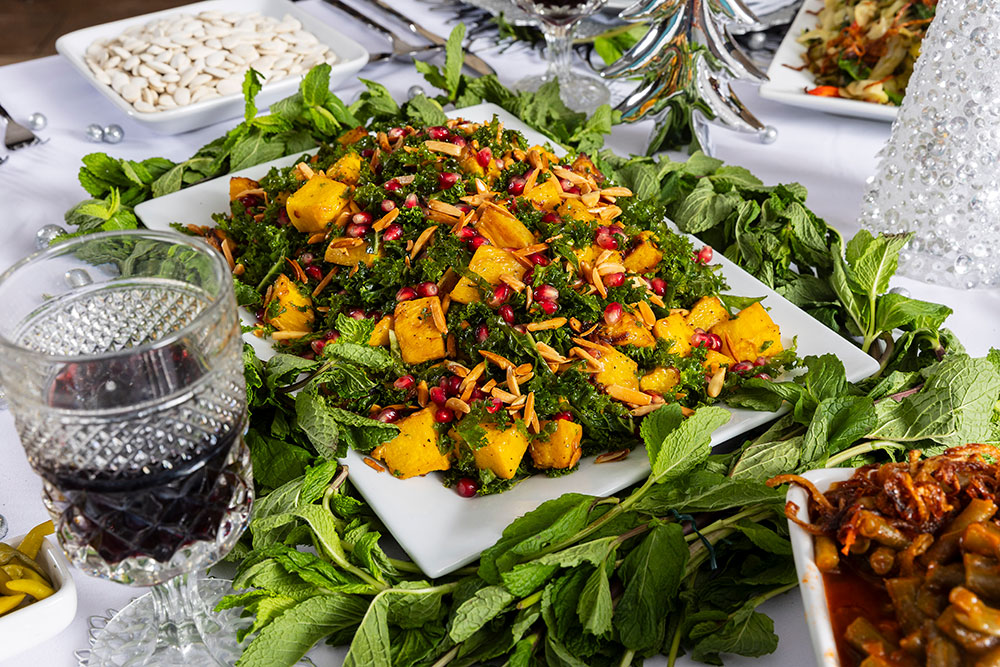 4 cups fresh pumpkin, cubed
1 tablespoon vegetable oil
4 cups kale, chopped
8 fresh mint leaves, chopped
1/4 cup sliced and toasted almonds
1/4 cup pomegranate seeds
Dressing:
2 tablespoons olive oil
2 tablespoons red wine vinegar
2 tablespoons balsamic vinegar
2 tablespoons honey
1/2 teaspoon salt
1 teaspoon black pepper
Toss cubed pumpkin in vegetable oil and roast for 12 minutes at 365 degrees.
Allow to cool, then add to a mixing bowl with kale, mint, almonds, and pomegranate seeds.
Mix dressing ingredients and distribute evenly over the salad. Toss until everything is well coated.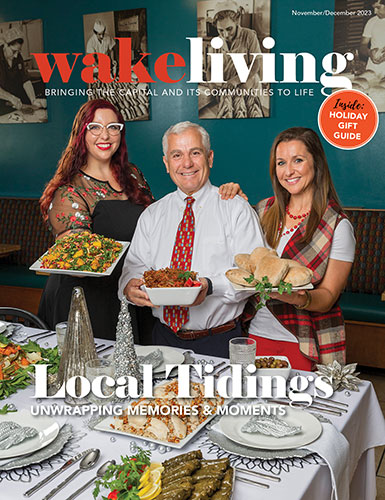 Sleighing the Christmas Spread: Sassool Style