Santa's Workshop is said to be a magical place where Santa Claus and his team of elves work tirelessly to prepare toys and gifts for children around the world in time for Christmas Eve. As most of us understand it, this workshop exists in the North Pole — but after extensive investigation, it seems that Santa has his own workshop here in Cary … and the elves really know their way around a table saw.
As most of you know, every year the Marine Toys for Tots program collects new, unwrapped toys to distribute to children in need over the holidays. This can be done via toy drives, manufacturer donations, and other community efforts. What many of you don't know about is the Triangle Woodworkers Association (TWA) — a group of wood-loving locals who have built over 75,000 handcrafted toys for our local Toys for Tots chapter over the last three decades.
"I joined in 2016, but Toys for Toys has been a part of TWA for many, many years," said Joe Sabo, TWA's committee chairman for Toys for Tots. "It all started with one guy who was a member of the club who made some toys, and a couple of other guys in the club joined him. Through some investigation, they discovered that they could turn these over to the Marines for the Toys for Tots program, so the whole thing within the club just grew from there."
Described on their website as a "nonprofit educational corporation," TWA holds monthly meetings both online and at Klingspor's Woodworking Shop in Cary, teaching woodworking techniques via seminars, classes, and workshops. TWA members share a love of woodworking, but you do NOT have to be a Master Carpenter to join.
"Woodworkers is a pretty loose term," said Roy Brookhart, club president. "We aren't highly paid professionals, and you don't have to feel intimidated. You might say, oh, I can't make a toy like that, or I can't make a table. Well, who cares? This is about teaching and a love for wood, and the same with the toys."
Both originally from Ohio, Sabo and Brookhart developed a passion for woodworking during childhood — but neither pursued it professionally. Both men began working for the same company based out of Illinois, and their professional and personal lives would continue to coincide over the years.
"Our paths crossed a number of times in our careers, but we never really worked in the same place — but we did work on the same product once. We retired on the same day, too, and the company 'forced' us to move here," said Brookhart, laughing.
Now leaders in the TWA, Brookhart and Sabo are fully committed to pouring their heart and soul (and tools) into educating locals about woodworking and helping kids within the community.
"I got involved helping the past Toys for Tots chairman, who had been the chairman for 15 to 18 years — and he was ready to hang it up, so to speak," said Sabo. "He asked me if I wanted to take over, and I said yes. It's extra work, but it's OK. I enjoy doing the work, and I enjoy knowing that our workshops are making toys for the people who need it in the community. That's rewarding in itself."
Last year, 40 TWA members built nearly 6,600 toys for Toys for Tots. The wooden toys were distributed throughout Wake, Durham, Johnston, Granville, Vance, and Franklin counties. This year, TWA has 14 individual workshops well underway — filled with men, women, doctors, lawyers, you name it — dedicated solely to toy production.
"All different kinds of toys are made," said Sabo. "We'll make a thousand little race cars — we call them Volkswagens — during one Saturday workshop. Roy and his team last year made a Connect Four. I've made what I call keepsake boxes, and I'll inlay a heart on it to make it a little bit more feminine for the girls. We've made trucks, helicopters, crayon holders, cribs for dolls, even American Girl-sized rocking chairs."
As for when toy production starts, it varies. While some workshops, or "teams," start at the beginning of the year, the traditional kickoff for the program is in June. Workshops are often held at individual members' home shops — the perfect opportunity to brainstorm, share tools, and simply have fun.
"In the workshop I'm in, we make three different toys," said Brookhart. "We have one that we make every year — we call it our namesake toy — and then we try to find two new ones. Our group tries to make toys that can be for either boys or girls, and we try to make toys that maybe are pointed towards the slightly older kids. We're going to make a thousand little cars, perfect for a 2-year-old, but 10-year-olds have Christmas, too. So although we don't know where they're going, we give it our best."
The TWA gives members the opportunity to create new things and try out new techniques — but you don't have to be a member of the club to earn the title "Santa's little helper." The Hardwood Store of NC is a significant sponsor and supporter of the Toys for Tots program, for example, and every year different community groups are invited to lend a helping hand.
"There's one group that's making bookends this year, and they've asked everybody to donate children's books so we can put the books in the bookends," said Brookhart. "One of the groups I'm in, we're making little baby cribs — and the ladies of a local church all got together and sewed little blankets."
This year, employees of a local business assembled the tires on 1,000 toy cars. Last year, residents at Atria Senior Living helped put wheels on trucks and rotors on helicopters, assisting with upwards of 150 toys. Local churches and senior living centers have also hosted TWA's annual handover meetings in the past, a December event attended by TWA members, the Marines, and other special guests.
"One year the staff sergeant got up and talked at our December meeting, where by tradition it's the handover of the toys to the Marines," said Sabo. "He talked about the history a little bit, but the thing that really struck home is that he told us that our toys have a special category in their grand scheme of things: handmade toys. That was pretty nice to hear. They could very well be the only handcrafted gift these kids ever receive in their childhood."
In the past, the club would bring all of the toys to the handover meeting, inadvertently "overwhelming" the Marines. Now, TWA takes the toys down to the base starting around Nov. 1.
"They've asked us to bring those toys as early in November as we possibly can," said Brookhart. "It helps the Marines to get them earlier, and selfishly, it helps us too — because once those toys are out of the shop, we might have a couple hundred more that we want to make before their deadline."
When asked to name an all-time favorite toy, neither Sabo nor Brookhart could pick just one. Sabo enjoyed making something called the popper, a push toy for toddlers, created by filling a barrel with balls. One of Brookhart's all-time favorites was the American Girl-sized rocking chair.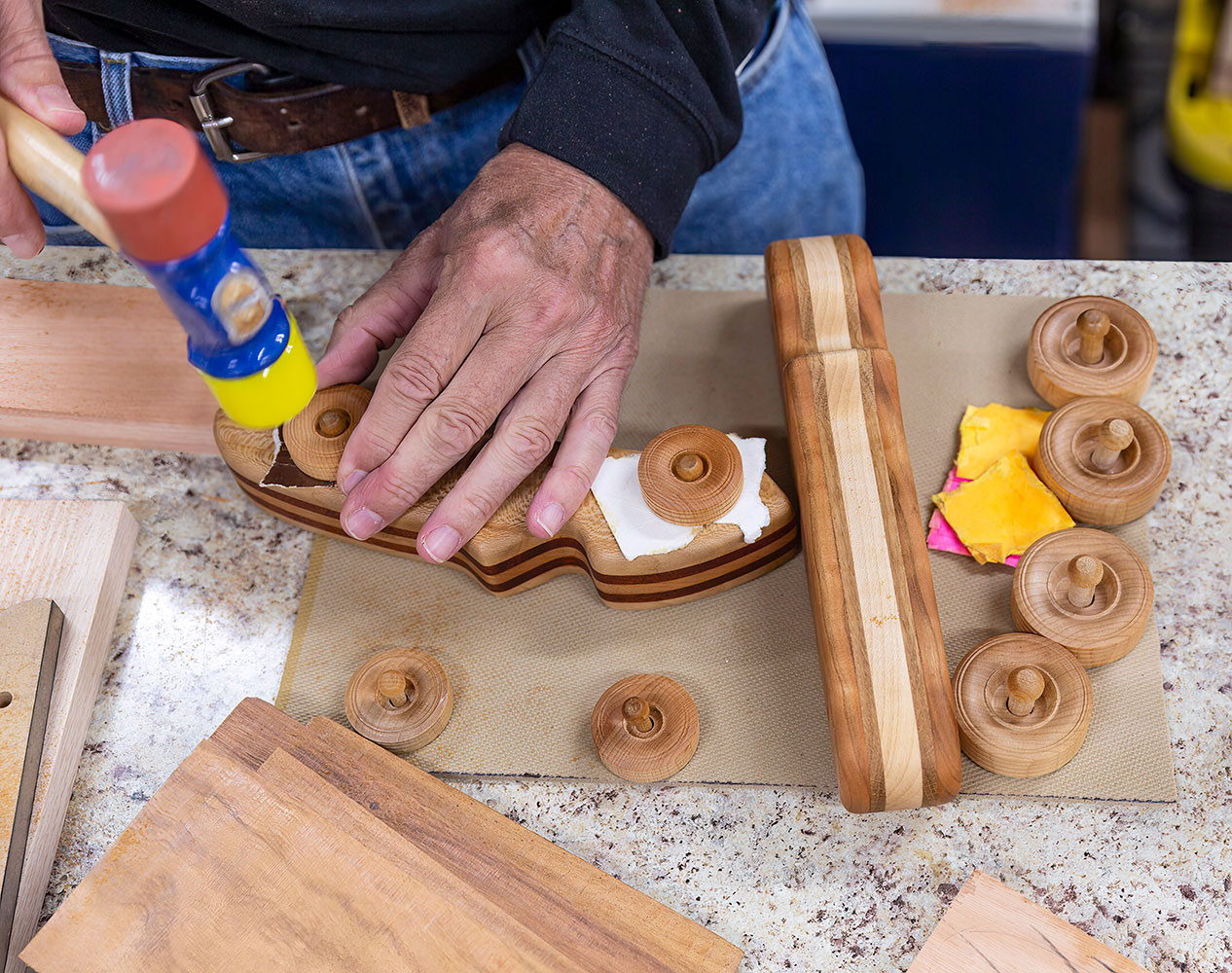 "It is so technically difficult to make, but we loved doing it," said Brookhart. "It's fun to push yourself to make a toy that a kid is going to like. Honestly, they can be hard to part with sometimes."
Despite having never met a single child that has received their handcrafted gifts, both Sabo and Brookhart agree that giving back makes every splinter worth it.
"I've been blessed with a lot of things: family, travel, health, and great parents. Just knowing that I'm helping a struggling child in the community have something for Christmas, even if I don't know who they are, that means a lot," said Sabo.
For those who are interested in helping, but know next to nothing about woodworking, Brookhart encourages everyone to give it a good old college try.
"You want to join our club? We have woodworkers in our club who I've never seen anything that they've made," said Brookhart. "I don't know what they do, and I don't care. If they just want to come and be a part of this gang, great!"
As stated in a recent press release, one of the club's greatest challenges is raising money to purchase needed wood and wooden parts such as wheels, dowels, wheel pins, and other toy components. In many cases, club members are using funds from their own pockets to purchase these supplies. If club membership is not in the cards, consider visiting their website to donate money to the program.
"If you're willing to help us, we're going to make sure that you are comfortable knowing that every single cent of your donation goes towards the creation of the toys," said Brookhart.
Hey, who ever said Santa works alone?