If authenticity and luxury had a physical location, it would be Decree Company — a custom stationery and upscale gift shop in downtown Raleigh. With its gold lettering and unique automaton window display, the renovated building, circa 1910, practically oozes charm and sophistication.
With a vision to revive the art of timeless printing, owners Robert Buhler and Ryan Dart — longtime friends and entrepreneurs — opened the store in September 2022.
"We decided to combine forces to bring the art of stationery to life," said Buhler. "We now both do this full time."
From uniquely designed greeting cards to Italian umbrellas crafted with Swarovski crystals, their gift shop offers customers an exclusive shopping experience — but the real magic happens only few steps away, in a back room filled with antique letterpress and engraving machines.
"We got these machines from all over America, and each one has its own crazy story," said Buhler. "When we first started out we got a windowless warehouse, and for two years we just practiced and learned from sheer passion. When it comes to engraving, there's maybe 50 people in the world that can do that, and we have three of them here."
Every step of their manufacturing process, from plates to prints, happens onsite — including bespoke stationery crafted by their in-house designer, discerning business cards, and more.
Our team recently had the pleasure of attending one of Decree's letterpress card making workshops, complete with mimosas and hors d'oeuvres, for a chance to immerse ourselves in the world of card design. Following a tour of century-old machinery, we spoke at length with Buhler, our master of ink-struction, about the business of traditional printing.
When did Decree first open, and what was the inspiration behind its opening?
We wanted to bring genuine and sincere communication to the forefront for the people of Raleigh. We felt in this current landscape, it is difficult to find a medium by which you can express yourself with sincerity. We decided to change the tide and start a stationery company where we bring beautiful designs to life by means of letterpress and engraving. This is all done in-house in Raleigh. We feel that a beautiful card and a genuine gift meets the moment for a dear friend or loved one on momentous occasions.
What does Decree Company sell?
We sell luxury stationery and fine gifts. We make all of our cards in-house in downtown Raleigh. We also do bespoke stationery for certain clientele. In addition, we carry fine gifts from all over the world, and have formed exclusive relationships with them. From Smythson to Versace, we carry a beautiful array of carefully curated gifts.
What kind of experience do you hope to provide to customers?
We hope people walk away knowing how much time and effort we put into each piece of stationery. Since they are able to see all the machines firsthand, we can show them what goes into making a single card. We hope they have an experience unlike any other they have had in Raleigh by seeing our craftsmanship upfront and in person. We have created a one-of-a-kind store downtown which we hope people will enjoy.
Describe your manufacturing process!
We do the highest forms of printing: letterpress and engraving. We start off with our lead designer, Madeleine Albright, crafting an exquisite design for a card. From there we take that design and carve it into copper plates to be used as the dyes for the printing presses. Then we take the copper plates and put them on our machines from the early 1900s, where they are pressed with about 10,000 pounds of force. After that, we fold them and get them ready to go on our shelves. Our cards have the illustrious raised or pressed-in effect, which is much greater than digital printing. We print all of our cards on 100% cotton paper of thick stock.
Tell us about your classes!
Our classes are a great way to start learning the process of letterpress. They are a lot of fun and are great for people 12 and up. At the class we provide wine and hors d'oeuvres for sampling, while we guide you through the process of letterpressing with our tabletop presses.
EACH GUEST WILL:
Choose an available machine and card design
Have the chance to mix their own custom color ink or use a premixed ink
Learn how to apply ink to their machine
Have the chance to rotate around to other machines to print different designs
Learn to score their cards for folding
Go home with 30 of their own letterpressed cards and a variety of envelope colors
Tour our century-old machinery and peruse our shop of fine gifts.
This is perfect for date nights, bachelorette parties, girls' night outs, and for people who are interested in learning more about fine stationery and the letterpressing process!
What do you love about owning your own business?
I love the opportunity to constantly create something new and forge ahead. We are always trying to become better and innovate in the stationery industry. With that comes a lot of challenges. In many ways, we are doing something nobody else has done before, so there is a steep learning curve. But our passion and love for this fine craft constantly push us to overcome the hurdles and move forward.
Anything else you'd like to add?
We have an app coming out in the middle of November. More details to come, but we cannot wait to share it with everyone. It is something that will help you become the master of being there at the right time with the perfect card and gift, with minimal effort. We look forward to making that announcement here soon.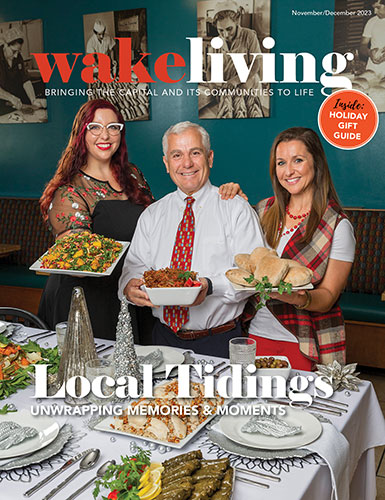 Small Business Spotlight: Decree Company