Styled by Jaime Nolan
Written by Dena Daw and Jaime Nolan
Looking for the perfect present for that someone special? Share the spirit of the season with gift ideas from these local Cary Magazine partners.
Fashion & Beauty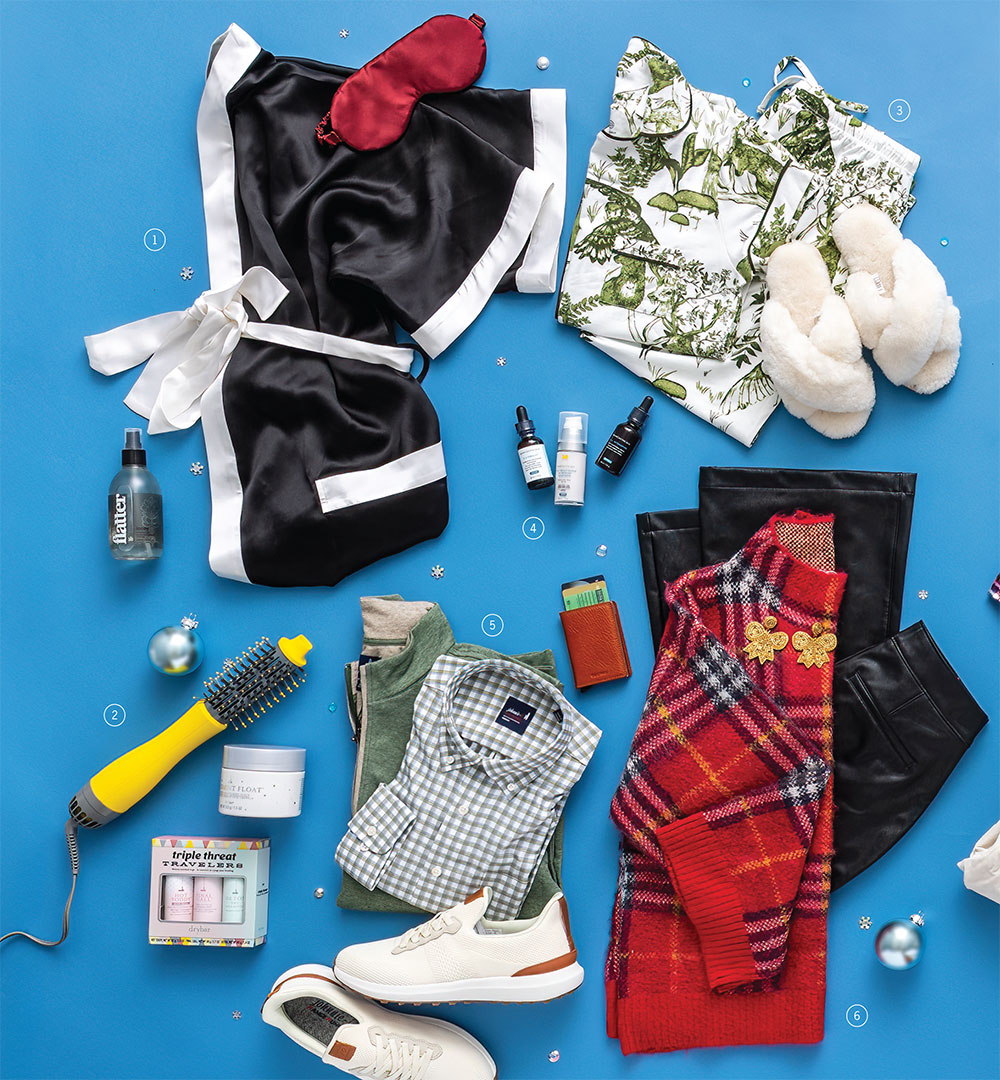 1. At The Perky Lady, gift the perfect blend of comfort and style. This boutique offers an unparalleled experience in bra fitting, along with a selection of loungewear and lingerie that's sure to impress.
2. Whether you want a stylist to create the perfect blowout or you're a DIYer, DryBar is the gift that gives you perfect hair!
3. From cozy pajamas to beautiful lingerie, you'll discover the ultimate holiday intimate apparel gifts to complement anyone's lifestyle at J.Alane's Fine Lingerie.
4. Elevate the self-care game this season at Generations Wellness Center! Combine the ultimate skin care regimen of SkinCeuticals with the Fontona laser treatment, fillers, and facial treatments. It's the ultimate gift of protection, prevention, and pure radiance.
5. Tailor your gift to your loved one's lifestyle with help from The Gentlemen's Corner — from ethically made original pocket wear to tailored suits and apparel.
6. Stay trendy with winter accessories. From charcuterie boards and scented soaps to Christmas fashion and decor, Swagger has you covered.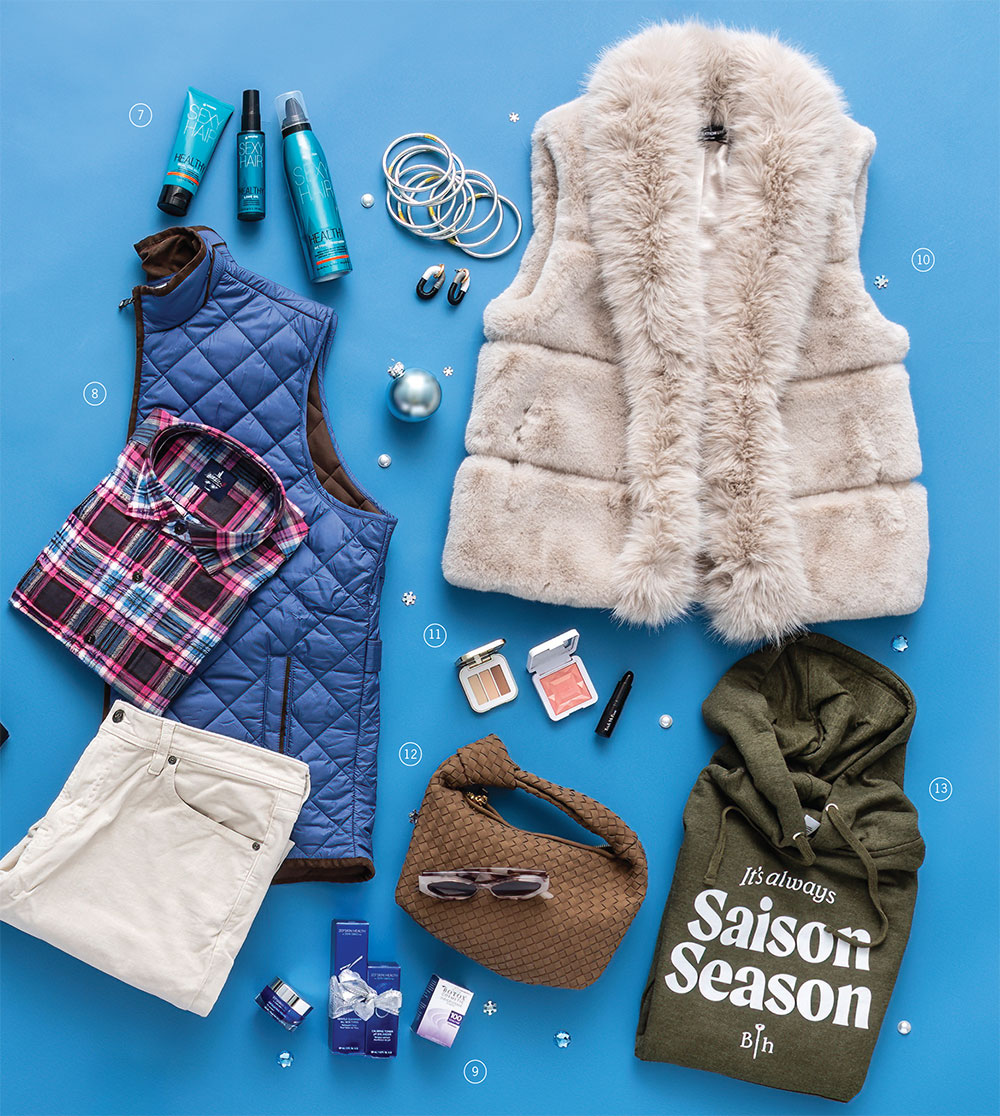 7. Give the gift of great hair! Healthy SexyHair products, available at Twisted Scizzors, help moisturize, nourish, color protect, and strengthen your luscious locks so you and your loved ones can feel (and look) your best!
8. Outfit the men in your lives at Ashworth's Clothing, with a variety of fine men's clothing, shoes, cigars, and more — all rich in history and tradition.
9. Refresh and enhance your look this holiday season with award-winning products and services at CARE Plastic Surgery.
10. Elevate your gift giving game with a dash of trendy, flair-packed fashion from The Gatorbug. Transform any outfit with a luxurious faux-fur vest, complemented by fabulous BudhaGirl bangles and subtle earrings — the perfect recipe for a recipient with chic style!
11. Grant regal allure of skincare and luxury makeup with brands like Jane Iredale, Chantecaille, and Henne Organics at Bluemercury — a gift of perfection for any occasion.
12. Clinch the most-wanted hand-woven bag and effortlessly chic clothing and accessories for your trendsetter. Villa19 has gifts that will not only make them look their best but feel their best, too!
13. Behold the ideal present for the beer enthusiast in your circle: Brewery Bhavana gear!
Food & Drink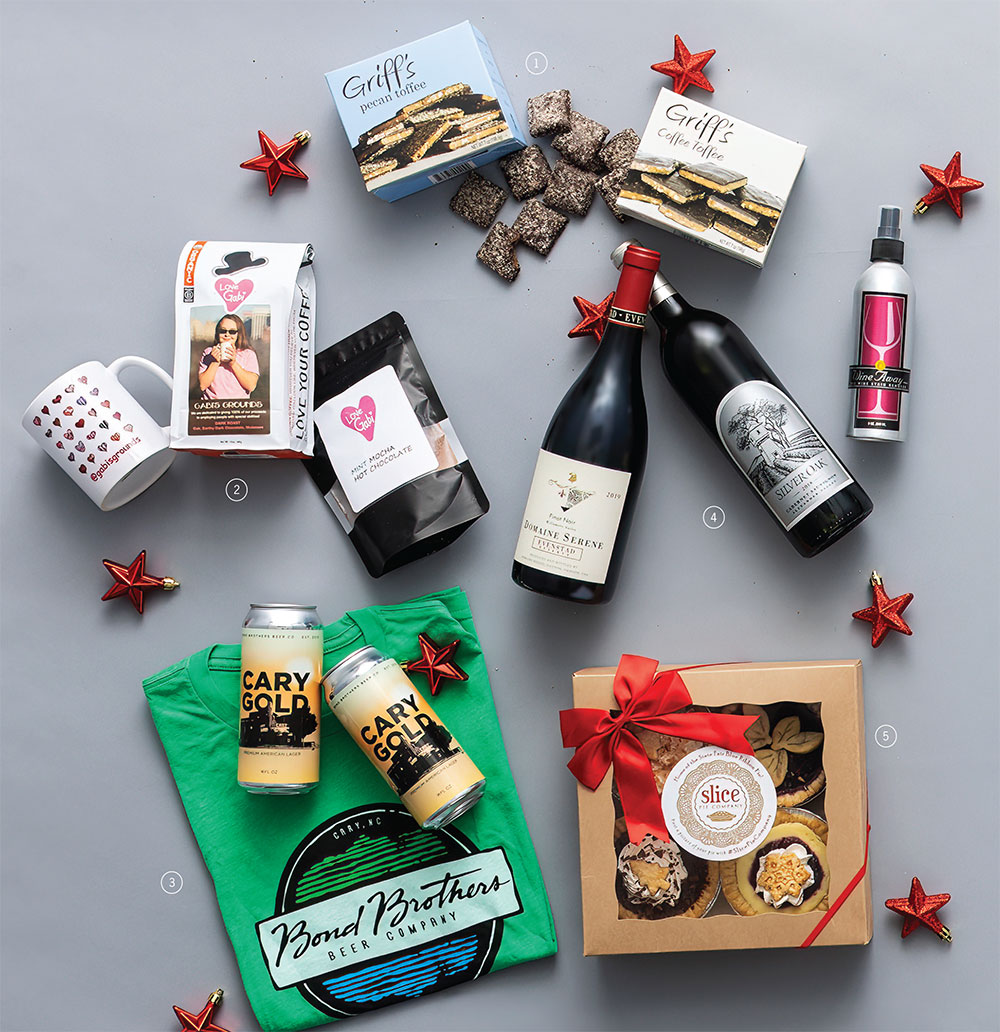 1. Handcrafted in the Triangle, Chapel Hill Toffee comes in a range of sizes perfect for gifting or indulging. Available in traditional pecan and coffee flavors.
2. Make a difference this holiday season by gifting your loved one with coffee and a mug from Gabi's Grounds — 100% of the proceeds go to employing people with special abilities.
3. Bless the beer lover in your life with everything Bond Brothers — from fun swag and gift cards to the perfect pint, there's truly something for everyone!
4. Sip back and relax at The Wine Merchant, but don't forget to pick up a bottle (or three) for your friends and family while you're there!
5. Gift your family and friends with a unique dessert experience from Slice Pie Company! Don't let the size fool you — just like the originals, these mouthwatering minis are made using Slice Pie Company's State Fair Blue Ribbon Pie Crust.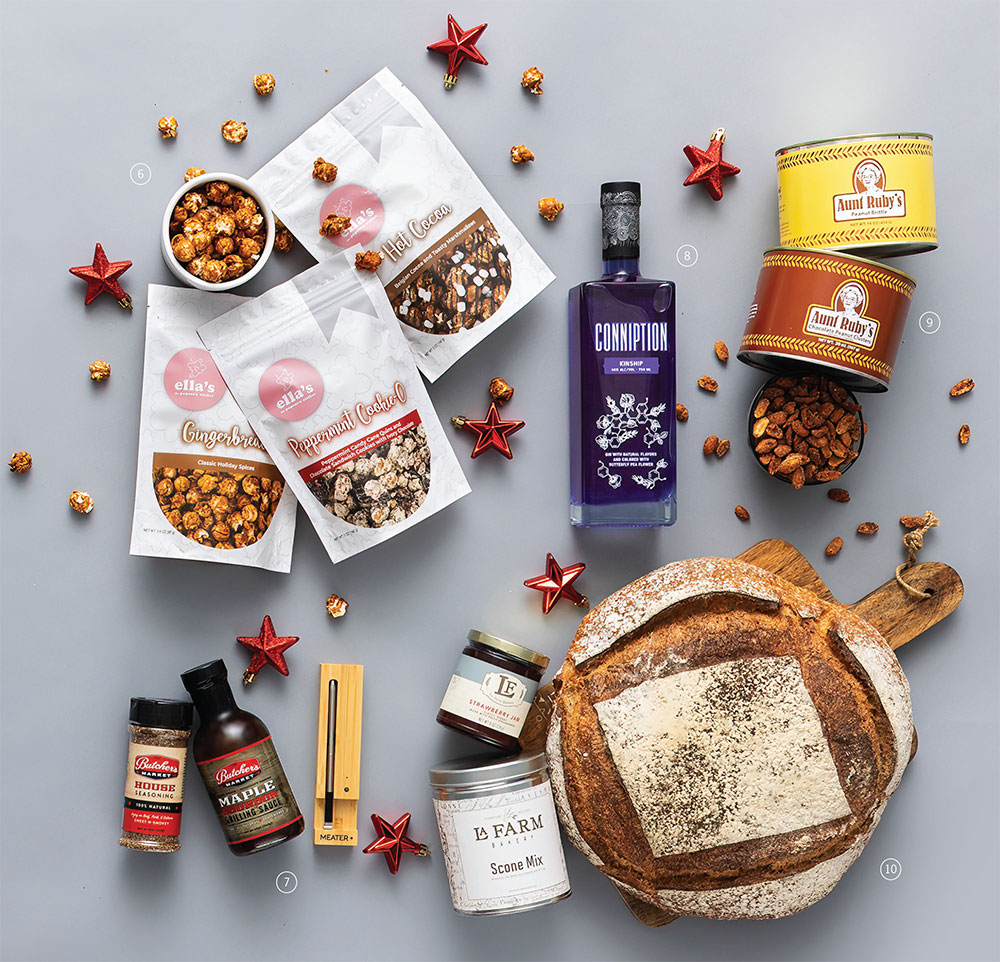 6. Not all popcorn is created equal, and Ella's Popcorn proves it. Gift a fun, nostalgic treat to friends and family in a variety of flavors, including peppermint cookie-o, hot cocoa, and gingerbread (to name a few).
7. Satisfy the backyard barbecuer in your life with rubs, spices, and gear from The Butcher's Market. Don't forget to pick up one of the hottest grill gadgets this year: the Meater wireless meat thermometer.
8. Science meets art with Durham Distillery's Conniption Kinship, a delicious, modern gin with a beautiful indigo hue. The coolest part? It changes colors right before your eyes when mixed with citrus or tonic! Share the fun with your gin-loving friends this season.
9. Whether they're country-style, cajun, or honey-roasted, Aunt Ruby's Peanuts are a nut-ural, heart-healthy gift for the holidays.
10. Gift the foodies in your life with a selection of delicious offerings from La Farm, from scone mixes and delectable jams to gift baskets with an array of La Farm's most popular items.
Home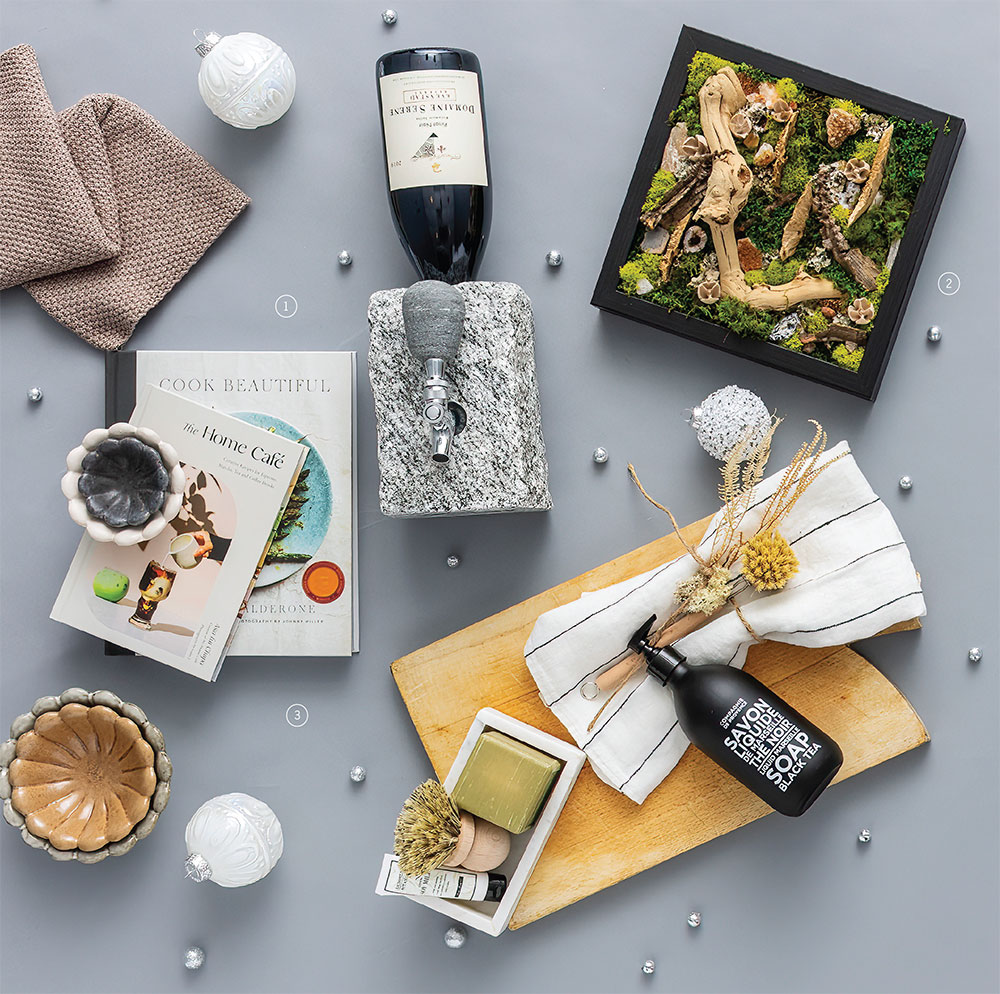 1. Cheers to a swanky spirit dispenser and beautiful home décor statement pieces. Blake Interiors has gifts that elevate the holidays!
2. Brighten your space with plants, candles, and nature-inspired gifts from City Garden Design.
3. No need to jet off to France to spoil someone with unique gifts. French Bleue offers a blend of antiques and modern home and garden treasures, bringing that chic French touch to you.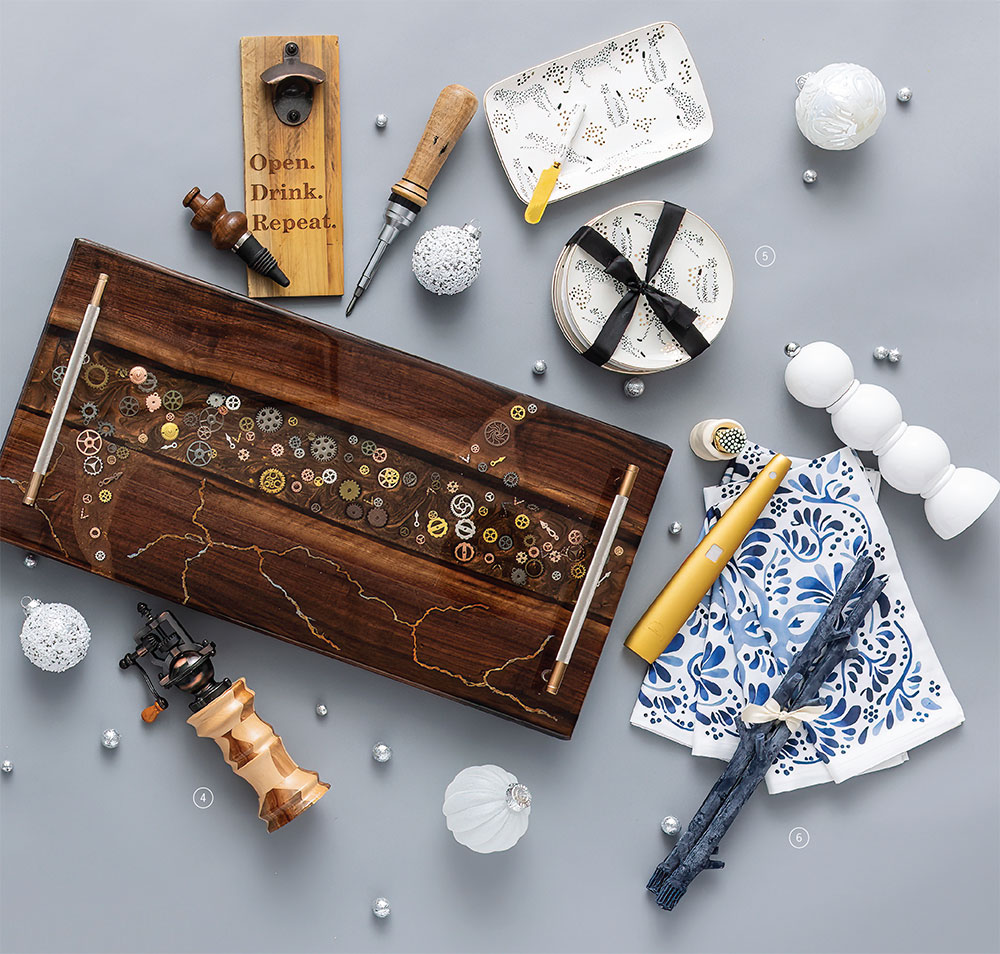 4. Enhance any charcuterie spread with handmade boards and accessories and find local, one-of-a-kind pieces at Rescued Wood Rehab.
5. Mary Square offers the latest trends in entertaining, gifts, apparel, and more! Cheetah prints adorn everything form plates to pajamas, making them a must-have on everyone's list this year.
6. From exquisite maple stick candles to glorious table linens, unique tabletop articles, serving artifacts, and more, Home for Entertaining is here for your great gatherings.
For the Kids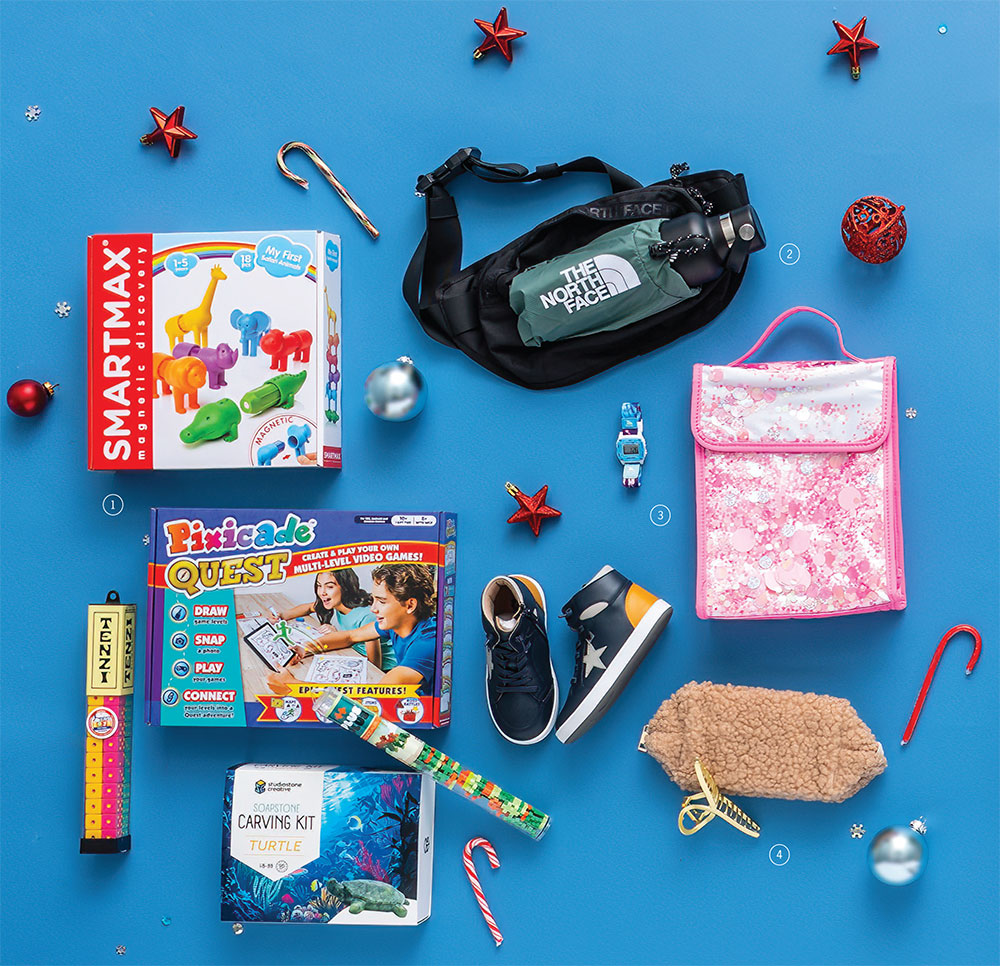 1. Give the gift where fun knows no age limits! Whether you are gifting games, STEM, outdoor exploration, or magic, Science Safari is the go-to store for all your toy needs.
2. Apex Outfitters is your spot for all things outdoor! From kids' waterproof watches to hiking belts, water bottles, and your favorite gear, it's a paradise for the outdoorsy person in your life.
3. Alane + Zane offers adorable gifts for newborns to 9-year-olds, from sparkly lunch bags to trendy sneakers and sweet baby items. Moreover, this enchanting boutique offers not just shopping, but also an engaging play and learning space for kids.
4. Gather Goods Co. makes it easy to find the perfect present. Explore a distinctive range of gifts from matte gold hair clips to bouclé makeup bags along with weekly planners, ceramics, relaxation items, and much more.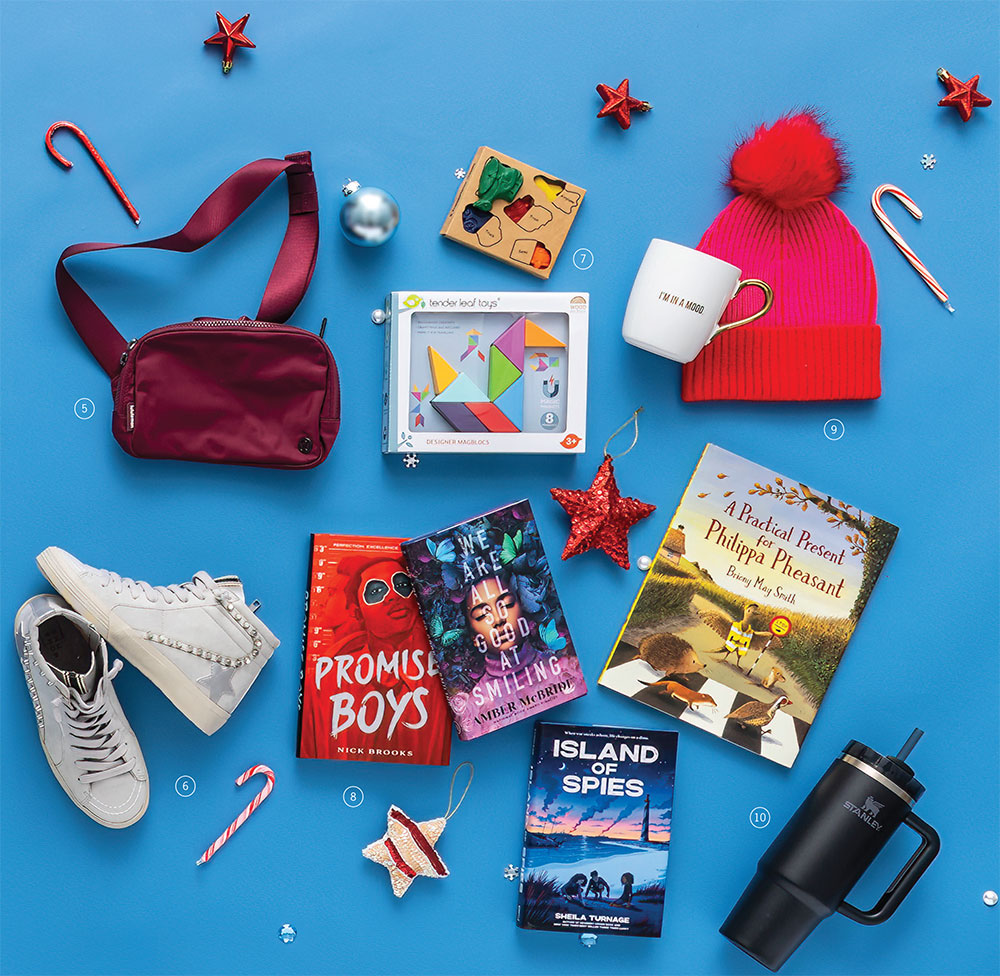 5. The coveted belt bag at lululemon is the ultimate gift this season!
6. Explore the trend of high-top sneakers, along with delightful clothing and home decor, at Arrow Tree Boutique.
7. The Little & Kind Shop at Gather Co. offers fantastic gifts for young minds, like wooden blocks and crayons to encourage both learning and creative play!
8. Kids will be spellbound with the latest and greatest reads from Quail Ridge Books!
9. From playful pom-pom hats to cheeky cups, clever towels, and charming decor, Swagger Boutique is your all-in-one spot for filling up those stockings!
10. Whether it's for the gym, tackling tasks, or conquering home-office deadlines, the Stanley tumbler from REI is the gift to rely on time and time again.
Stocking Stuffers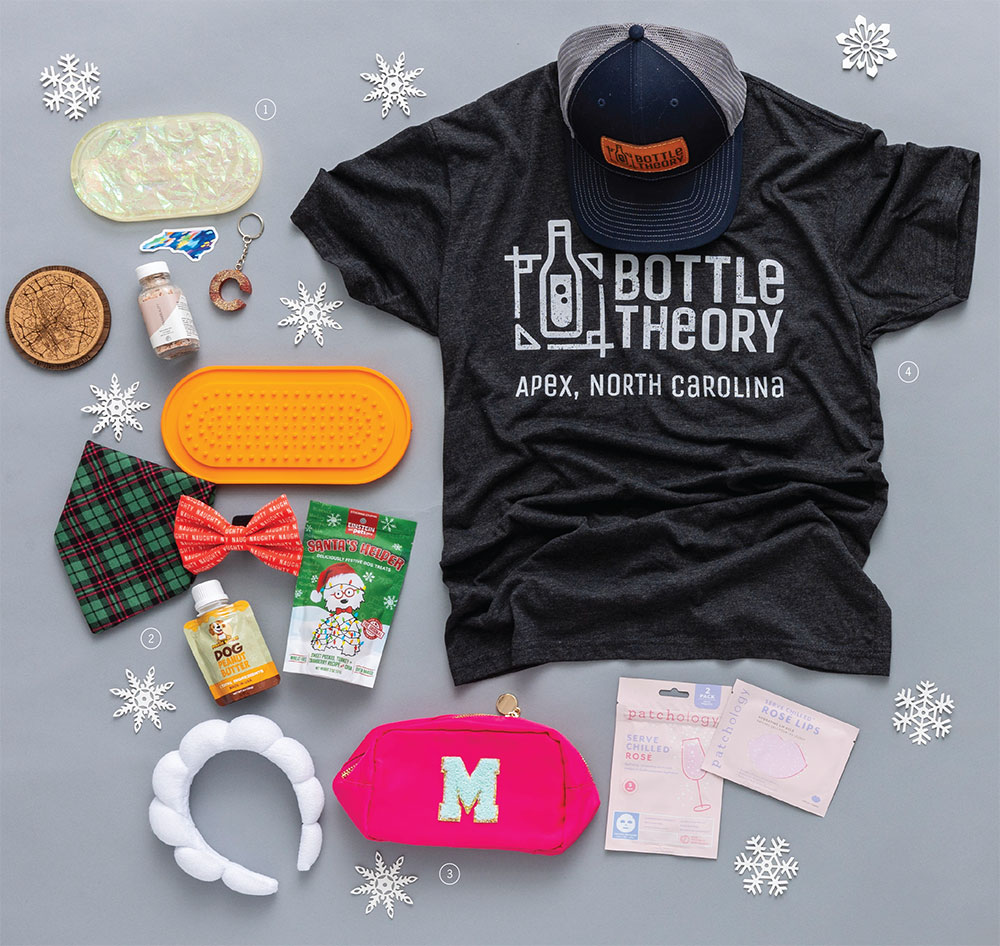 1. Unwrap the ribbon of North Carolina's artisian goods at Curate. With gifts such as acrylic keychains and trays, accessories, candles, art, and cards, they have everything in store for the holidays.
2. Give your pup a woof-tastic Christmas with goodies from Dirty Dog Spa. Pamper your pet with toys, treats, and an ultimate spa day. Who can resist a blueberry facial and luxurious bath?
3. Swagger Boutique is your ultimate wonderland for stuffing your stocking! Featuring stunning jewelry, at-home spa day essentials, marvelous monograms, and so much more!
4. Whether you're catching up with neighbors over a juicy IPA, picking up a bottle of wine for dinner, or looking for some fun swag, Bottle Theory strives to provide something special.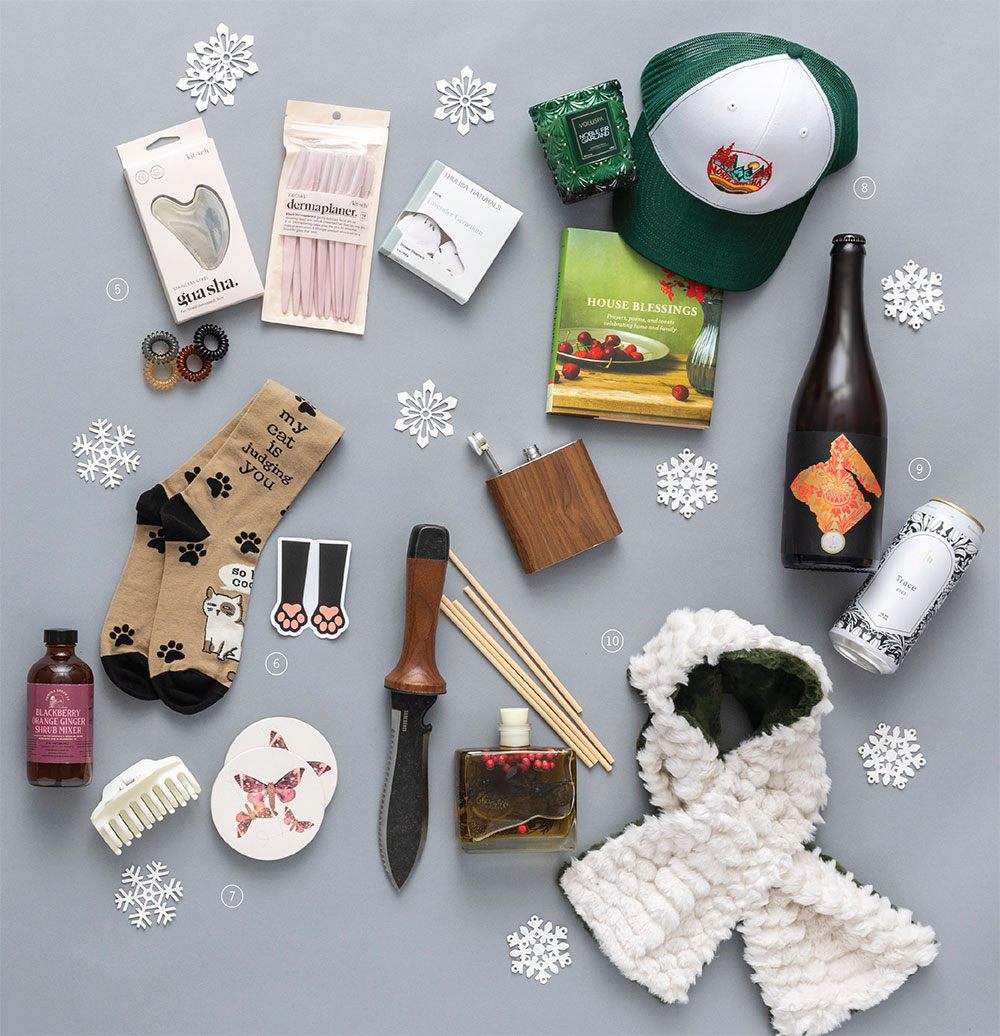 5. Indulge in the ultimate spa-at-home experience with Rose and Lee's curated selection featuring gua sha tools, dermaplaners, lavender geranium shower steams, and sleek hair ties. While you're giving the gift of relaxation, snag a little something for yourself with their collections of sustainable and ethical women's clothing and accessories!
6. Meow-City has imaginative gifts designed for the feline enthusiast in your life.
7. From herbal shrub mixers for your fave mocktail or cocktail to quaint ceramic coasters and hair claws that have made a comeback, Gathered Goods Company has distinctive gifts for all.
8. Discover a selection of thoughtfully curated gifts that bring joy to you and excitement to others. From Voluspa candles to NC hats, coffee table books, and flasks, there's a little something for everyone at Good Day Cary.
9. Treat someone to the delightful flavors of Brewery Bhavana. It's a gift that will bring pure joy to their taste buds.
10. Garden Supply Company has gifts for even the most well equipped! Whether it's the versatile Barebones Hori Hori Ultimate tool, a cozy scarf, or a holiday diffuser, they have something special for everyone on your list.
Jewelry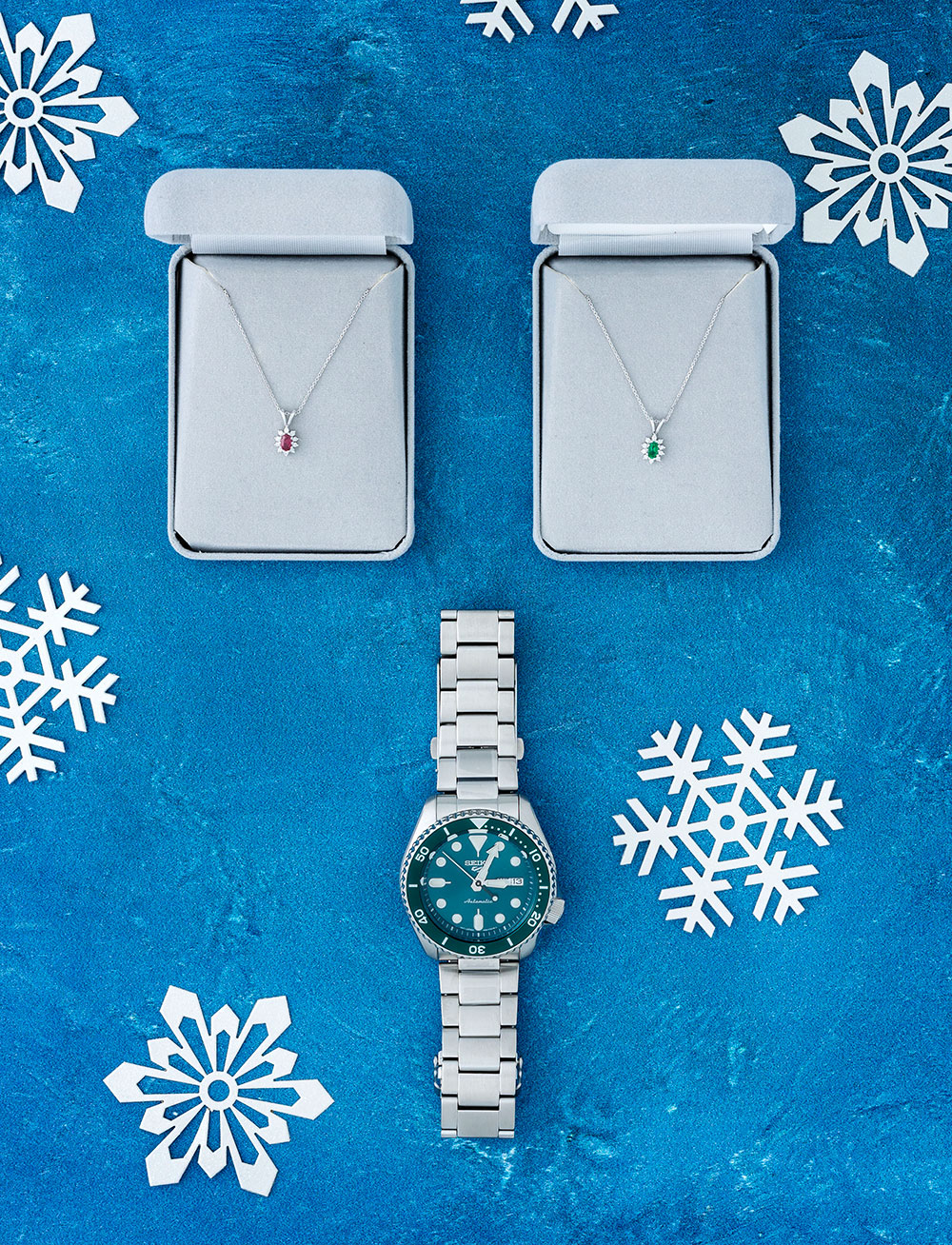 Who can resist the gift of jewelry? From functionable to fashionable, Johnson's Jewelers offers an extensive array of pieces. A watch, an essential addition to any collection, and a gemstone — both embody cherished styles that will hold a special place in their heart for years to come.
Floral Centerpieces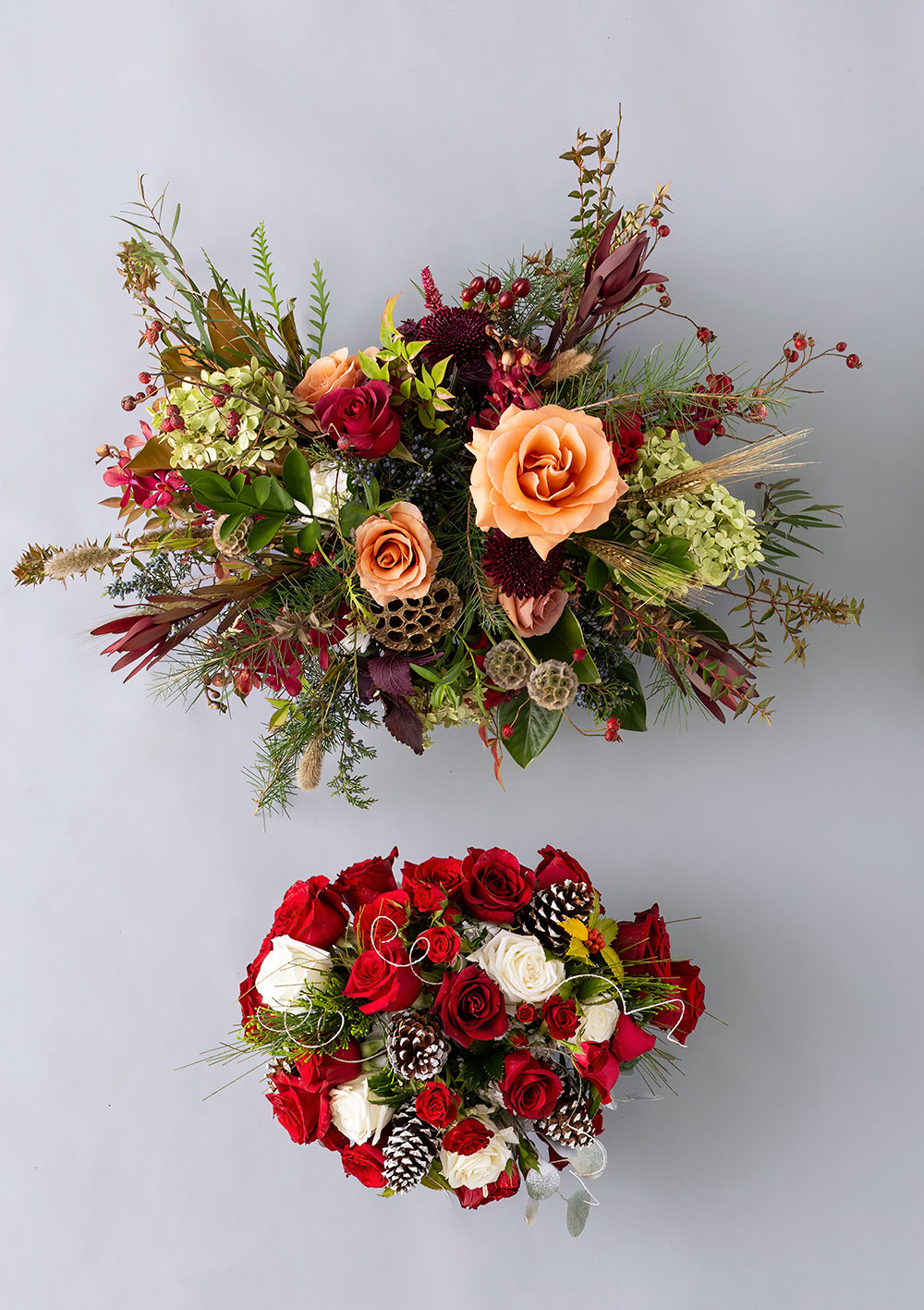 Looking for a gift that will never go out of style? The Flower Cupboard offers iris-istible arrangements and unbe-leaf-able plants that everyone will enjoy!
Deck the halls from top to bottom with stunning floral displays and assorted holiday décor from Preston Flowers.
Where to Shop
Alara + Zane
200 Park at North Hills St., Raleigh
(919) 917-7189; alarazane.com
Apex Outfitters
225 N. Salem St., Apex
(919) 267-9353; apexoutfitter.com
Arrow Tree Boutique
415-A Brooks St., Downtown Wake Forest
(984) 235-0447; arrowtreeboutique.com
Ashworth's Clothing
210 S. Main St., Fuquay-Varina
(919) 552-5201; ashworthsclothing.com
Aunt Ruby's Peanuts
1 (800) 732-6887; auntrubyspeanuts.com
Blake Interiors
3020 Village Market Place, Morrisville
(919) 377-2269; blakeinteriors.co
Bluemercury
1 Fenton Main St., Cary
(984) 209-1777; bluemercury.com
Bond Brothers Beer Company
202 E. Cedar St., Cary
(919) 459-2670
602 E. Chatham St., Cary
(919) 650-1125; bondbrothersbeer.com
Bottle Theory
3675 Green Level W. Road, Apex
(919) 267-6227; apexbottletheory.com
Brewery Bhavana
218 S. Blount St., Raleigh
(919) 829-9998; brewerybhavana.com
The Butcher's Market
Cary, Holly Springs, Raleigh, Wake Forest
thebutchersmarkets.com
CARE Plastic Surgery
2001 Weston Parkway, Cary
(919) 335-9298; careplasticsurgery.com
Chapel Hill Toffee
chapelhilltoffee.com
City Garden Design
117 W. Chatham St., Cary
(919) 377-2334; citygardendesign.com
Curate
15 W. Hargett St., Raleigh
curateonline.square.site
Dirty Dog Spa
North Raleigh, Wake Forest, Wendell
dirtydogsspa.com
DryBar
302 Colonades Way, Cary
(919) 883-5882; drybarshops.com
Durham Distillery
711 Washington St., Durham
(919) 937-2121; durhamdistillery.com
Ella's Popcorn
1 (833) 713-2929; ellaspopcorn.com
The Flower Cupboard
4216 NW Cary Parkway, Cary
(919) 467-4161; theflowercupboard.com
French Bleure
Downtown Apex
(919) 349-6622; frenchbleue.com
Gabi's Grounds
1053 E. Whitaker Mill Road, Raleigh
(919) 274-1449; poweredbygabis.org/gabis-grounds
Garden Supply Co.
1421 Old Apex Road, Cary
(919) 460-7747; gardensupplyco.com
Gather Goods Co.
417 Kildaire Farm Road, Cary
shop.gathergoodsco.com
The Gatorbug
8 Fenton Main St., Cary
1111 Mercantile Drive, Raleigh
thegatorbug.com
Generations Wellness
1021 Darrington Drive, Cary
(984) 228-1521; generationsfamilypracticewellnesscenter.com
The Gentlemen's Corner
107 Edinburgh Drive, Cary
(984) 333-0150; thegcorner.com
Good Day Cary
214 E. Chatham St., Cary
(919) 377-2504; gooddaycary.com
Home for Entertaining
119 W. Park St., Cary
(919) 363-0055; homeforentertaining.com
J. Alane's Fine Lingerie
1323 Kildaire Farm Road, Cary
(919) 881-8058; facebook.com/jalanesfine/
Johnson's Jewelers
126 E. Chatham St., Cary
(919) 467-9431; johnsonsjewelerscary.com
La Farm Bakery
Downtown Cary, Preston Corners, West Cary
lafarmbakery.com
lululemon
20 Fenton Main St., Cary
(984) 345-2743
4421 Six Forks Road, Raleigh
(919) 705-0289; shop.lululemon.com
Mary Square
(940) 626-2064; marysquare.com
Meow City
659 Cary Towne Blvd., Cary
(919) 518-7749; meow-city.com
The Perky Lady
103 N. Salem St., Apex
(919) 589-2970; perkyladyunderthings.com
Preston Flowers
1848 Boulderstone Way, Cary
(919) 460-4625; prestonflowers.com
Quail Ridge Books
4209-100 Lassiter Mill Road, Raleigh
(919) 828-1588; quailridgebooks.com
REI
1751 Walnut St., Cary
(919) 460-9995; rei.com
Rescued Wood Rehab
718 N. Main St., Fuquay-Varina
(919) 285-2653; rwrnc.com
Rose and Lee
104 W. Chatham St., Apex
(919) 372-5384; roseandleeco.com
Science Safari
1255 Kildaire Farm Road, Cary
(919) 460-6051; scisafari.com
Slice Pie Company
1400 S. Saunders St., Raleigh
(984) 296-2194; slicepiecompany.com
Swagger Boutique
2425 Kildaire Farm Road, Suite 503, Cary
5011-D Falls of Neuse Road, Raleigh
(919) 858-5884; swaggergifts.com
Twisted Scizzors
950 High House Road, Suite 950, Cary
(919) 303-7775
twistedscizzorsonline.com
Villa 19
219 Salem St., Apex
(919) 303-0651; villanineteen.com
The Wine Merchant
4240 NW Cary Parkway, Cary
(919) 469-1330; winemerchantcary.com