Years ago in downtown Raleigh, a concerned group of citizens began offering meals to people in need on the weekends in Moore Square.
The service helped people, but volunteers also recognized that people deserved to be served meals with dignity, in a safe, indoor space.
A discussion began with the City of Raleigh and Wake County governments, and a task force ultimately formed to find a solution.
In 2015, Oak City Cares was born. The organization spent its first four years serving a total of 207,000 weekend meals to those in need through a coordinated system of volunteers, said Kathy Johnson, executive director of Oak City Cares.
All the while, a second phase was in the works.
"Step two was about more than meals; it was about helping those who need assistance to navigate the complex system of services and find their way to stable housing and out of homelessness," Johnson said.
In 2019, that goal was realized. Today at its South Wilmington Street facility, Oak City Cares continues to serve weekend meals and now offers services in two additional categories: basic needs and coordinated care.
The facility provides showers, laundry, cell phone charging, computers, and a place to receive mail. The shower facilities alone are used roughly 60 to 80 times a day, Johnson said.
"These are things we may take for granted, but you don't think about how challenging it is when you don't have a stable address," she said.
Oak City Cares' Coordinated Care Program consolidates many essential services in a single location, meaning people don't have to travel all over the county for different needs, Johnson said.
More than 30 partner organizations are on site regularly, and even more rotate through in categories such as medical care, behavioral health, veteran services, domestic violence services, and more. Oak City Cares staff coordinates these services in a way that's most beneficial to visitors.
"You can have all these services on site, but if it doesn't happen in a coordinated way, it benefits no one," Johnson said. "We are connecting people to the right service in the right order."
For example, if someone comes in to apply for Supplemental Nutrition Assistance Program benefits but has no permanent address — a requirement to receive a SNAP card — staff can help first establish a place to receive mail at the South Wilmington Street location, she said.
All of this is done while practicing what Johnson calls "radical hospitality." Staff take time to learn about people's individual needs and ensure they feel valued and understood.
Oak City Cares is a public-private partnership, supported by the city of Raleigh and Wake County governments, along with religious, civic, and business organizations. Wake County owns the building and provides security, landscaping and maintenance, janitorial services, and other operating necessities, Johnson said.
Then a web of faith, civic, and business organizations, private foundations, and individuals volunteer their time and resources.
Mark Swallow is one of those volunteers. He was among those serving food in Moore Square years ago and served on the task force that ultimately resulted in Oak City Cares.
When he retired from work in 2019, he began volunteering, helping out in the basic needs division. With showers, laundry, and other services in demand, volunteers are essential to make sure those facilities stay clean and sanitized.
With his unique perspective on the evolution that led to Oak City Cares, he knows the organization just makes sense.
"Homelessness isn't caused by one thing; every person has their own story," Swallow said. "They're in the shape they're in because of their story. You need a gathering of services that are going to help people as individuals."
Swallow gets to witness the happy outcomes, recalling one woman who lived in a tent and was working toward permanent housing.
"She'd always try to help other people," Swallow said. "Then one day, she came in and she'd gotten her place — she was just so excited."
Volunteer support will be essential in the future, Johnson said. Oak City Cares has doubled the number of people it serves in recent years. That's not unique to Wake County, as the pandemic, rising costs, and a lack of affordable housing have created similar situations across the country.
Johnson is proud to say the organization now serves as a model for other communities. A similar service was born in Cumberland County after representatives visited with Oak City Cares.
The end goal is to not be needed, Johnson said. But that time is not here yet.
"It really takes every sector coming to the table to bring all the resources, support, and goodwill that they can to truly make a difference," she said. "We have the privilege and honor of walking alongside people during what some might describe as one of the most challenging times in their lives."
To learn more about services or to get involved or give back, visit oakcitycares.org.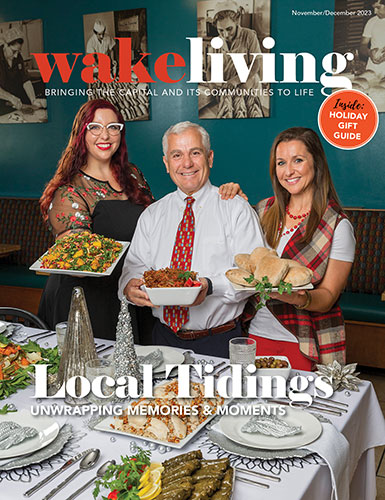 Pay it Forward: Oak City Cares