Holiday magic exists in abundance in Wake County, with many seasonal experiences returning time and again to spark holiday joy and memories in thousands of Triangle-area residents.
These five signature local traditions mark each passing of the most wonderful time of the year — how many have you experienced?
Ira David Wood III's A Christmas Carol
Charles Dickens penned A Christmas Carol in 1843, but in the Triangle, Ira David Wood III's adaptation of the classic tale is nearly as ubiquitous. Performed every year since 1974 by Theatre in the Park, a longtime Raleigh-based theater company, the show celebrates its 50th anniversary this year. From the outset, Wood expected the show might stick around for a few years.
"Only because nothing else was being offered in the city at that time. Most theaters were closed down during the holidays, and it always seemed strange to me, because I thought Christmas time was the time that families would love to do something together," recalled Wood.
Adding his own blend of humor and mischief to the stage adaptation, Wood created a unique experience for Triangle-area audiences.
"I wanted audiences to identify with Scrooge. I didn't think he was as accessible as he could be the way Dickens portrayed him — so morose and dark. I wanted this to be a comedy," said Wood. "I landed on the idea that here's a guy who just enjoys wrecking Christmas for people, and it's just this twisted delight. I think there's a little bit of Scrooge in everybody around the holidays."
Wood plans to retire after this year's production, but his son, Ira, and many talented local actors will continue performing the beloved tale that has become a centerpiece of the local holiday season.
"After almost 50 years, there's so many beautiful stories attached to the experience we've had with this production," said Wood, recounting meeting descendants of Charles Dickens, performing the play in England, and many now-famous actors who graced the Raleigh stage early in their careers.
"We are lucky that people have allowed us to become part of their celebration of the holidays. That's a great honor," said Wood.
A Christmas Carol
December 9–11, Duke Energy Center for the Performing Arts
December 14–18, DPAC
theatreinthepark.com
The Angus Barn's Holiday Decor
The acclaimed Raleigh steakhouse The Angus Barn accepts dinner reservations one year in advance. By the end of January each year, the restaurant is fully booked for the holidays, said owner Van Eure.
To be sure, the restaurant draws a crowd year-round to commemorate special occasions and milestones, but during the winter months, the Angus Barn transforms its guest spaces with floor-to-ceiling decorations — a feat requiring hundreds of man hours and weeks of preparation — creating one of the most sought-after settings for holiday celebrations.
"There is a certain way we fluff the garland, a certain way we tie bows — it has to be perfect," said Eure. "I have a warehouse to store all the decorations; they are organized by room."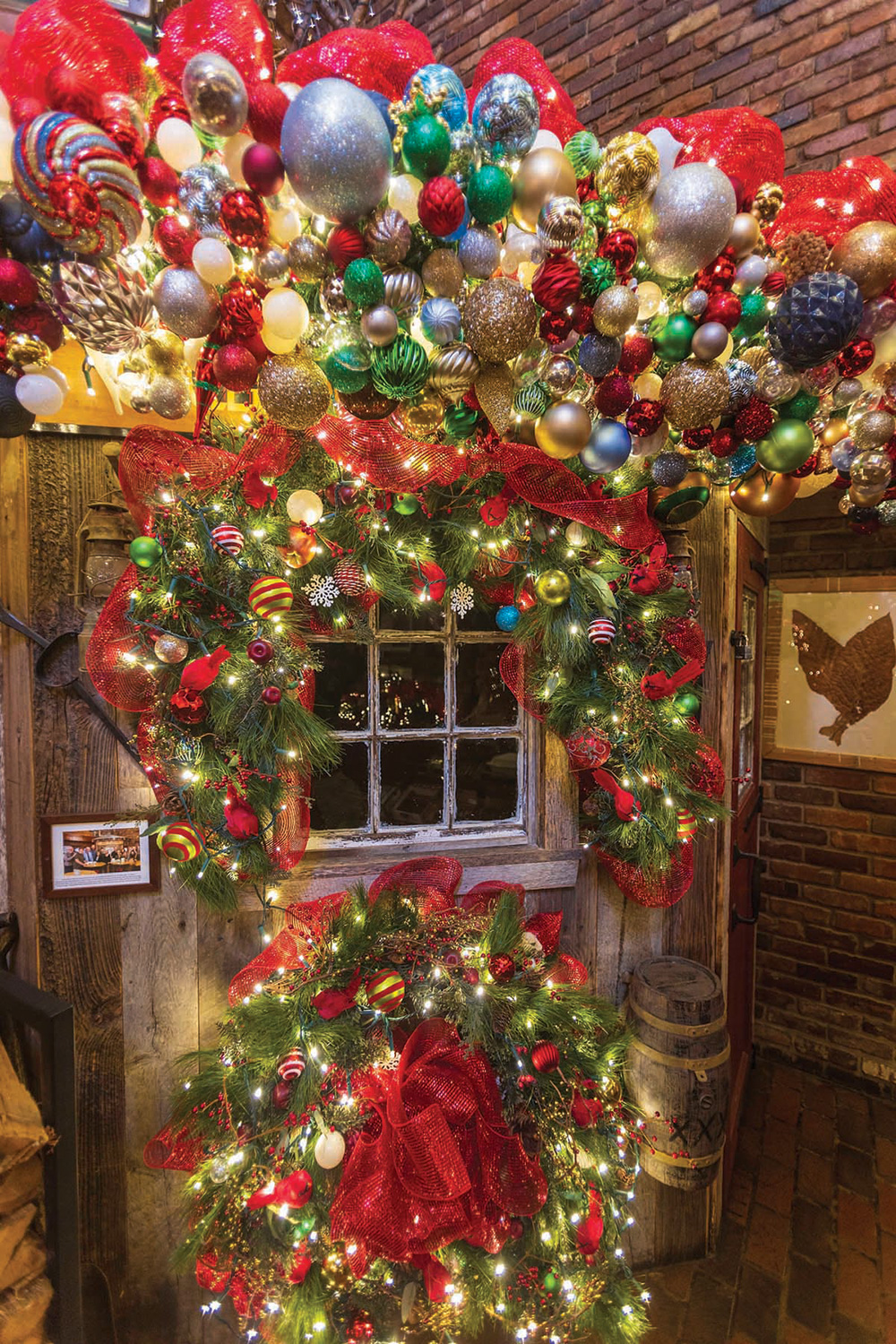 Each year, the displays shift and change, adding new elements and inspiration gathered from establishments around the country.
Last year, Eure added illuminated archways to the holiday display. Arriving guests drive under the ivy-lined steel arches on their way to the Barn.
The tradition of decorating the Angus Barn started with just a Christmas tree — albeit a large one — in the lobby, until Eure visited The Greenbrier resort in West Virginia, known for its luxury accommodations and elaborate holiday displays.
"If the Greenbrier can do every room like this, there is no reason the Angus Barn shouldn't be able to," recalled Eure.
A grassroots group, affectionately called the Housewives of the Angus Barn, assists each year with hanging the decorations. The group, which has grown to more than 30 people at times and includes men as well, starts climbing ladders, installing garland, and hammering in wreaths around October 10, working around the Barn's meal service to complete the endeavor by the second week of November.
"I could not be more grateful for this group," said Eure.
Eure readily admits to experiencing moments of doubt every year.
"Next year, I'm putting up a sign that says, 'We donated all of the money we would have spent on decorations,'" she joked.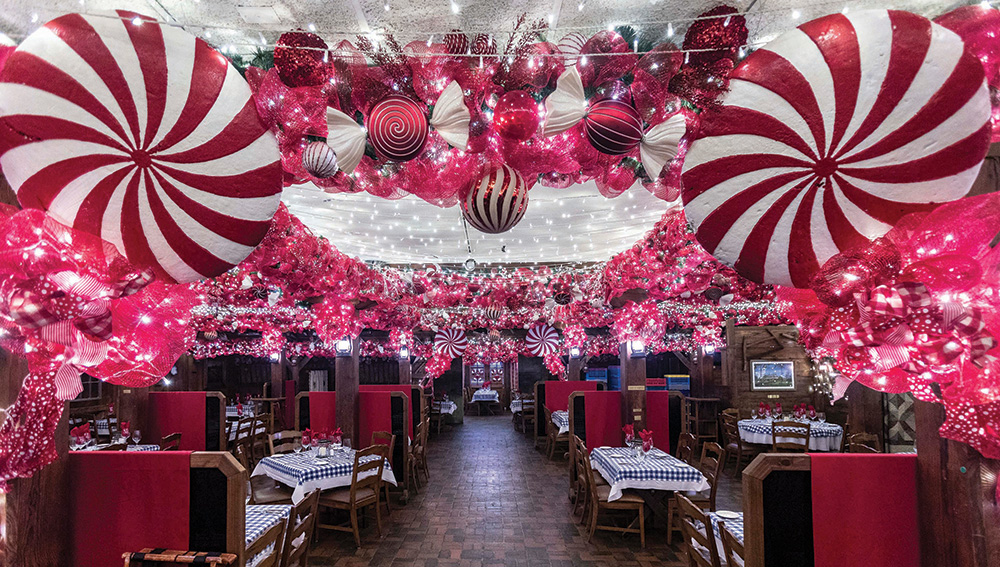 But the time and effort always proves worthwhile when guests witness the holiday wonder and, inevitably, can't wait for next year.
"Our profession has the opportunity to do so much in people's lives, to provide respite from the craziness of the world. Come in and you can be pampered and taken care of. In here, you can create memories," she said. "When people come to you for their special occasions, it's a real compliment to you — we take that compliment very seriously."
While reservations are hard to come by — this season is already fully booked — the Angus Barn does reserve some tables for walk-up guests. The Wild Turkey Lounge, Entrance Saloon, and The Meat Locker offer walk-up service as well. Be prepared for a wait list, especially during the holidays. Request a tour of the decorations to help pass the time.
The Angus Barn Restaurant
9401 Glenwood Ave., Raleigh
angusbarn.com
The Umstead Hotel's Tea with Santa
"It's the hottest ticket we have, the most special event we put together," said Umstead Hotel Executive Chef Steven Devereaux Greene of the annual Tea with Santa event. Greene, a James Beard Award semifinalist, hosts elaborate wine dinners, caviar pairings, and famous guest chefs at Herons, the hotel's fine dining restaurant. But it's the Tea with Santa event that takes the tea-cake as the venue's most popular event.
"We have about 400 reservations spread out from the end of November through December. Those reservations sell out in about 40 minutes," said Greene, admitting that hotel staff are advised to stay off the phone lines when reservations open up in September, in anticipation of a flood of incoming calls.
Guests of the tea are seated in the elegant and beautifully decorated Umstead ballroom. Adults and children enjoy menus of tea sandwiches, freshly made hot cocoa, and sweet treats.
But remember, this is The Umstead, so the grown-up menu includes hot chocolate with Grand Marnier, lobster salad tea sandwiches, and salted caramel-chocolate verrine. Younger guests receive kid-friendly delicacies, such as almond butter waffles, chocolate pots de crème, and holiday cupcakes.
Santa and Mrs. Claus attend the tea and take time to visit with each table individually. Santa and his helpers bring a special holiday magic (including secrets we can't reveal here), creating an intimate and highly personalized encounter for everyone in attendance.
"Everyone gets a turn to visit with Santa and tell him their Christmas list," Greene said. "To see the expressions on the kids' faces is priceless."
Storytime with Santa is another highlight of the event, usually attended by an elf or two, assisting Santa with his storytelling.
A luxury resort like The Umstead may not typically be known as a family destination, but Greene said in this case, it's a natural fit.
"The Umstead is a family-oriented place as far as the employees and owners. The owners want it to be a place for the community, and that includes giving back to the kids, creating that experience for kids."
"The most rewarding part of my job is about giving back, nurturing people, and creating a lasting positive memory in someone's life," he said.
Greene attends the event with his son. "It's one of my favorite events we do at the hotel."
Reservations for Tea with Santa open in early September.
The Umstead Hotel and Spa
100 Woodland Pond Drive, Cary
theumstead.com
Carolina Ballet's The Nutcracker
Performed in the Triangle for more than 20 years, Carolina Ballet's The Nutcracker features a live symphony orchestra playing the famous score by Pyotr Ilyich Tchaikovsky accompanying professional dancers from the state's premier ballet company.
Each year, Carolina Ballet incorporates a children's cast in important roles throughout the production, offering the chance for young local dancers to participate in an exciting holiday tradition. A series of magical illusions opens the show and sets the tone for a family-friendly event.
Last year, the production underwent a revamp, including new choreography, sets, and costumes.
"Zalman Raffael, our artistic director, wanted to modernize our Nutcracker. Traditionally, it's set in the Victorian Era, in the late 1800s, but he wanted to make it more accessible to the newer generations, so they could envision themselves on stage instead of watching something that is very dated," said Terry Baker, the costume designer for the new iteration of the show.
"When you see Victorian costumes as a child (in the modern era), you're not really connecting with that. We decided to go with a mid-century Americana twist on it. That's really been our inspiration for this new design."
Raleigh Denim Workshop co-founder Victor Lytvinenko collaborated with Baker on the reimagined design.
"When we first started the design process, I would make sure the costume was danceable, but Victor would come in as someone outside of ballet. … He would look at it from a different perspective … and it was really refreshing," said Baker.
"I feel like the way we have re-envisioned (The Nutcracker), the production still has the heart that makes people want to come see it. The music is still the same. … It's still going to have all of the amazing magic tricks. It still has that energy and magic that makes your eyes light up," said Baker.
It's never too late to make The Nutcracker part of your holiday traditions! Attendees of all ages will enjoy the new choreography, costumes, and sense of nostalgia — one of many reasons this refreshed production is the ballet's most well-attended Nutcracker ever! Performances begin on Dec. 14 and run through Christmas Eve.
Carolina Ballet's The Nutcracker
December 8–10, Martin Marietta Center for the Performing Arts
December 13–17, DPAC
carolinaballet.com
Drive-Through Light Displays
One of the most universal celebrations of the holidays, Christmas light displays, experienced a verifiable glow-up during the pandemic, when drive-through light shows brightened up the holiday scene. Load up the car with kids and crew, don pajamas, and sip hot cocoa while cruising through illuminated tunnels and displays — all from the comfort of your vehicle.
The Magic of Lights event takes place at Coastal Credit Union Music Park, featuring digital animations and even an illuminated Monster Truck BigFoot within the display.
Youngsville-area Hillridge Farms follows up its popular Fall Pumpkin Festival with a drive-through winter wonderland. Their Festival of Lights opens Thanksgiving weekend with over a million lights.
Among the most unique area displays is Lights on Holt Road, in which Apex resident MG Guerra decorates his private residence, then welcomes the public, free of charge, to drive through the property and view the elaborate displays.
The show opens at the end of November and runs through the day after Christmas. A few nights throughout the schedule are reserved for special groups, such as first responders and families with special needs.
Guerra maintains a Facebook page to communicate updates about the light show. Through his Facebook reach, he has mobilized a huge effort to support Ukrainian refugees since 2022. Seeking donations of airline miles and money for flights, Guerra has helped families and individuals safely leave the Ukraine and connect with host families in the US.
For more information, search MG Global Support Foundation on Facebook.
Plus one more!
NC Chinese Lantern Festival
Not a drive-through experience, but still an iconic tradition, the NC Chinese Lantern Festival at Koka Booth Amphitheatre offers larger-than-life walk-through displays made of thousands of LED lights and specially crafted lanterns, plus cultural arts performances on the amphitheatre stage. Returning to Cary for the seventh year, attendance at the 2021 festival topped 200,000 guests, the highest to date.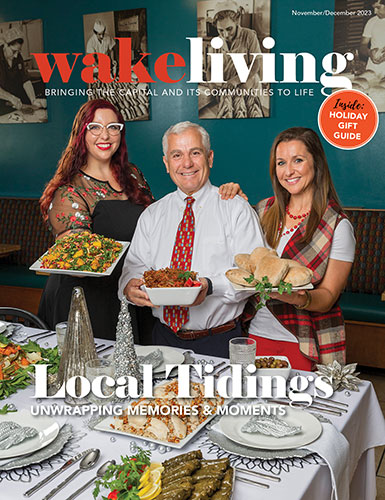 Iconic Holiday Experiences in The Triangle