When the pandemic hit and restrictions shut down most of the places that people gathered, the woods, hills, and open spaces of disc golf courses — disguised as some of the best nature trails — became the perfect escape.
After snagging a disc, or 10, and grabbing some friends, those seeking an escape from Zoom meetings, YouTube bread-making videos, and the blahs of isolation found a sport that, quite honestly, they might have only known because of a throwaway joke in a Seinfeld episode about frolf — Frisbee golf.
Funny thing is, even with the pandemic in the rearview mirror, the sport has become more mainstream and continues to thrive, even in the fall and winter, as Wake County offers some of the best disc golf experiences around.
"The thing I enjoy most about it is it's free, and you can get out a lot and just enjoy the weather," said Philip Hinton, who lives between Forest Ridge, home of a new fall/winter 18-hole course layout in Wake Forest, and Cedar Hills in Raleigh, one of the area's most heavily used courses.
On a recent fall day, Hinton, 25, and his buddy, Jonathan Hayes, decided to hike through the course at Forest Ridge, chucking discs along the course that measures nearly 6,000 feet — remarkable for its colorful and fallen leaves, its heavy use of bushes and guardian trees as hazards, and an over-the-water hole to tackle if you're feeling adventurous.
"I just love [the sport]," 28-year-old Hayes said. "There's such a big group here in Wake County. There's always somebody you can join up and play with or some type of event that you can go to. What's great about it is getting outside with your buddies and messing around in the woods and get some competitive juices flowing."
The sport is played with the same idea as regular golf, but instead of using a club to whack a ball into a hole, players fling varying types of wind-piercing discs toward a basket, hoping that strings of metal chains catch the disc and nestle it softly into the cage.
The pandemic lit a spark for disc golf, as it's easy to be socially distant out in a field or in the woods, even with a group of four or more.
And the sport got hot.
According to 2022's The Disc Golf Report by UDisc, a sort of digital clearinghouse for all things disc golf, more than five disc golf courses were built each day in the United States in 2021, a 50% increase over the number of courses built in 2020, the start of the pandemic.
Dropping a GPS pin in north Raleigh, one could find more than 30 disc golf courses — public or private — within 30 miles. In 2020, according to the report, 11.95 million rounds of disc golf were played, up from 3.9 million played in 2019. And the sport hasn't shown any signs of cooling off, either, literally and figuratively.
According to UDisc, 17.2 million rounds were played in 2021.
"Some of my friends have never heard of disc golf, or they know about it but have never played," said Raleigh's 11-year-old James Beavers. He and his brother Oliver are some of the up-and-coming talent for the area, which includes a host of professional players.
"Some of my friends do play, and that's pretty cool," said James Beavers. "It's just that feeling of, 'Oh, my God, they play disc golf,' and you don't feel like the only one. It also makes you want to keep playing, knowing that there are others out there who love it as much as you."
North Carolina is the eighth most popular state for disc golf, and Cary's Diavolo Disc Golf Course is the eighth highest-rated course in the state, according to Disc Golf Scene, a directory and tool for organizing tournaments, leagues, clubs, and courses.
Diavolo's designer is not just the architect of the course, but he's one of the driving engines behind one of the most thriving disc golf communities in Wake County — the Capital Area Disc League (CADL), which organizes events, puts on clinics, and offers a host of volunteer opportunities.
"Right off the top, it's an all-inclusive sport," CADL President Jay Pontier said of why he believes the sport and community thrives in Wake County. "It's so welcoming. When I market it, I tell people it's a lifetime fitness sport. It's no longer the private domain for men 15 to 35. It's for all ages and genders. You find so many families playing in Wake County and beyond, way more than where it used to be. Obviously, Covid amplified that, but it remains popular."
Where to Play
To find courses in your area, check with your city or town's parks and recreation department or visit pdga.com.
The UDisc app, which costs about $15 annually, offers a wealth of disc golf tracking information, including courses that are available in your area.
To learn more about CADL, visit their website at nccadl.com.
"And the reason it's popular here is because Wake County is so welcoming and people give back," Pontier said, noting that parks and recreation departments have been keen on partnering with CADL or others to grow the sport and opportunities here.
"On our CADL [Facebook] page, we see folks who say, 'I'm new to the area and want to [play]' and a lot of people respond. It's a great welcome to the area."
Experienced Raleigh player Michelle Green agrees that Wake serves as a great incubator for the sport. The 1985 Broughton High School grad has been playing since the mid-1980s. She got her Professional Disc Golf Association (PDGA) number in 1994. The sport's popularity has spread, she said, and communities like CADL and others cradle the sport in Wake County.
"It's a community here," said Green, who plays both amateur and professional events. "We call it a tribe. The community around here is super welcoming. There's just so much to do. I know of at least five different folks who run putting leagues on Sundays, Wednesdays, and Tuesdays. There's probably not a day of the week where you can't find a league or something going on around here."
And, Green said, the area has a strong community for women disc golfers with Facebook groups like Triangle Women's Disc Golf Chat and Ladies Disc Golf Doubles.
"As far as the disc golf community, there's a lot to bring you here," Green said. "If you're looking for something to do in the Capital area, you're not going to lack for anything. You'll find what you want here."
And the experience that disc golfers get here does translate. Ten-year-old Oliver Beavers, who calls Cedar Hills his home course, was crowned 2022's PDGA Junior World Champion in the under 10 age group following a four-round competition in Peoria, Illinois, this past summer.
"The final nine holes at Worlds is really wooded," said Oliver Beavers. "But since we play in Wake County, most of the courses are pretty wooded, and most of the other players played in open courses. I felt like I had an advantage, and it paid off."
"The most competitive event he's played in felt like a causal round at Cedar Hills," said Oliver's dad, Mike Beavers, who got his sons into the sport a few years ago. "The reason that these guys are so good at disc golf is that they get practice out there at these courses, which are challenging," Mike Beavers said. "They're not scared."
Wake County offers disc golfers a wide variety of experiences. You can play a championship-caliber course like Diavolo, relatively easier courses like Kentwood, or other, smaller, beginner-friendly courses on shorter layouts throughout the area.
"I just tell [new people] that it's free to play," said Mike Beavers. "You just need a disc and you're good to go out and play. And you can be creative. You can just throw [a disc] back and forth with a friend or play a full-on round. [Wake County] is just a really cool place to play because there are so many courses. And the temperate climate makes year-round play an easy sell."
Green agreed.
"I play year-round," Green said. "Nothing stops me from playing. There are events scheduled up through the end of the year. Even if it's snowy, you just deal with it.
"Just get out and have fun."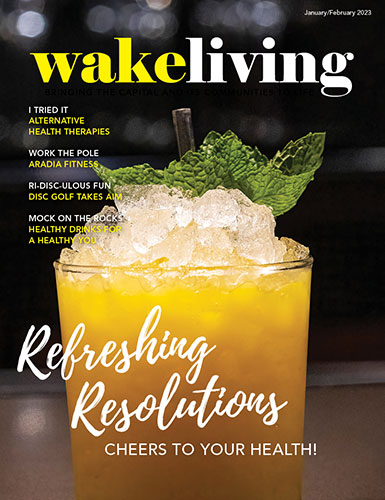 Disc Golf Takes Root, Sprouts in Wake County