Longleaf Swine
Best New Restaurant
When it comes to Best New Restaurant, Longleaf Swine, located in Raleigh's historic Oakwood neighborhood, smoked the competition. Their award-winning offerings include traditional Eastern North Carolina whole-hog barbecue, Texas-style brisket and ribs, and culinary-focused sides and specials.
"When you come to visit with us, you're stepping into a friend's house who wants to fill your belly and make you smile," said owner Adam Cunningham. "You can expect to indulge in thoughtful cuisine that is locally sourced, thoughtfully prepared, and undeniably rooted in a rich culinary history of Southern barbecue."
Longleaf Swine opened in November 2022, fulfilling Cunningham's lifetime goal of owning and operating a brick and mortar location.
"We bought and renovated a building that had originally served as a Texaco gas station and for the past 50 years was the home of a neighborhood restaurant, Oakwood Cafe," said Cunningham. "We wanted to honor the tradition of the original building while putting our own spin on the space. By adding the outdoor covered patio, we are able to expand not only our seating capacity, but the dining experience as well."
This might be Longleaf Swine's first award, but it certainly won't be the last.
"That's the goal, right? To win an award voted on by our customers and our community is a sign that we are doing something right," said Cunningham. "We will continue to be the best we can be, and if you haven't visited our new location yet, we hope to see you soon!"
MoJoe's Burger Joint
Best Burger/Fries
In a job well done, MoJoe's Burger Joint, located in Raleigh's Glenwood South district, has taken this year's award for Best Burger and Fries.
MoJoe's kept their eyes on the fries with their award-winning freshly grilled burgers, ranging in size from 6 ounces to the "Hall of Fame" 1-pounder. Their full menu features wings, sandwiches, fresh salads, and much more. Wash down your meal with a cocktail, 12 taps of your favorite craft and local beers, or a boozy milkshake. If you're having a special event, MoJoe's also provides catering services, bringing the good eats directly to you via their food truck.
As stated on their website, "Our mission 20 years ago was to serve quality fare in a friendly, casual atmosphere. And we have been doing it better than everyone else ever since."
No lies detected!
P.S. Hit up the patio with your furry friends and pick up a pup cup while you're there!
Cousins Maine Lobster
Best Food Truck
If you've lived in the area long enough, I'm sure you've heard of the Cousins Maine Lobster food truck — or seen the lines firsthand! Nationally known but locally owned by Deb and Greg Keller, mouthwatering lobster rolls, clam chowder, and more can be found all over the Triangle thanks to not one, but two food trucks! For locations, follow them on social media and download their app (or visit them at Morgan Street Food Hall in downtown Raleigh).
Deb Keller, who first saw Cousins Maine Lobster on Shark Tank nine years ago, has zero regrets about taking a chance on their fresh and flavorful offerings.
"I've got an amazing team, and my husband is my rock," said Keller. "We continue to have folks reach out to us for special occasions. We do weddings and catering, and it just hasn't stopped. I love customer service — it's what brings me joy, the stuff that makes me happy. I love the smiles, and I love when people reach
out and say we have an amazing product."
cousinsmainelobster.com/locations/raleigh-nc-restaurant/
The Parlor at Heights House
Best Cocktails
They may have mixed drinks, but nobody has mixed feelings about this year's win for Best Cocktails!
Located inside the Heights House Hotel, a 10,000-square-foot pre-Civil War Italianate mansion in Raleigh's Boylan Heights neighborhood, The Parlor offers Italian-inspired cocktails, an all-Italian wine list, and local craft beer alongside cheese and charcuterie boards.
All guests are greeted by Heights House Hotel's team and Raleigh native Will Bryant, manager and mixologist of The Parlor.
"I am thrilled to hear about this award mainly because we are a new bar just starting to dip into the cocktail scene here in Raleigh," said Bryant. "I love how one cocktail can make such an impact on someone — it's why I love what I do!"
Be sure to explore the historic home's common spaces while you're there, including the library, drawing room, dining room, lounges, terraces, and communal fire pit (or, if you're looking for the perfect staycation, book a night at the hotel). Enjoy!
Vidrio
Best Date Night
Do you have dreams of whisking your significant other away on a romantic trip to the Mediterranean, but don't have the time (or the budget) to make it happen? Lucky for all of us, Vidrio — located in Raleigh's Glenwood South neighborhood — sends their customers on a culinary vacation the minute they step through the door.
"I love cooking with spices," said Chef Saif Rahman. "When I started my career as a young cook, I realized that there were 21 countries around the Mediterranean Sea. Countries like Morocco, Tunisia, Egypt, Libya, Turkey, Israel, Spain, and Syria use similar spices and techniques even though they are far from Bangladesh, where I come from."
Inspired by the flavors of the Mediterranean region, as well as his own upbringing, Rahman and his team o er artfully crafted cocktails, bold wines, and plates showcasing beloved spices and food traditions in a new, unique way.
"My only hope and dream is to cook well and cook with the intention of connecting with our guests emotionally through food," Rahman insisted. "I want to make our guests feel what my grandmother and mother made me feel when I would sit around the kitchen while they cooked."
Restaurants
Best New Restaurant
Longleaf Swine
The Rainbow Luncheonette
Smith's Smokehouse & Smoothies
Most Iconic Restaurant
Angus Barn
Caffe Luna
Winston's Grille
Best Food Truck
Cousins Maine Lobster
Hot Chix
Chirba Chirba
Best Appetizers
Margaux's Restaurant
Stir
Plates Neighborhood Kitchen
Best Cocktails
The Parlor At Heights House
Dram & Draught
Whiskey Kitchen
Best Bakery
Boulted Bread
Plant Cakes Bake Shop
Yellow Dog Bread Co.
Best Dessert
Rey's Restaurant
Bittersweet
Dairy Depot
Best Barbecue
Prime Barbecue
Longleaf Swine
Clyde Cooper's Barbeque
Best Breakfast
Metro Diner
Morning Times
Creedmoor Cafe
Best Brunch
Irregardless
Zest Cafe & Home Art
Hummingbird
Best Burger And Fries
Mojoe's Burger Joint
Over The Falls
Cowfish Sushi Burger Bar
Best Date Night Restaurant
Vidrio
Death & Taxes
Vinnie's Steak House & Tavern
Best Coffee
Jubala Coffee
Black & White Coffee
Sola Coffee Cafe
Best Seafood
42nd St. Oyster Bar
Backfins Crabhouse
Cape Fear Seafood Company
Best Steakhouse
Vinnie's Steak House & Tavern
Rey's Restaurant
The Peddler Steak House
Best Pizza
Trophy Brewing & Pizza
Oakwood Pizza Box
Mellow Mushroom
Best Wings
Wild Wing Cafe
Woody's Sports Tavern & Grill
Vinos Finos Tapas & Wine Bar
Most Kid-friendly Restaurant
Nofo @ The Pig
Milton's Pizza & Pasta
Over The Falls
Best Asian Restaurant
Bida Manda
David's Dumplings
Red Dragon Chinese Restaurant
Best Mediterranean Restaurant
Sassool
Vidrio
Showmars
Best Irish Restaurant
Hibernian Irish Pub & Restaurant
O'malley's Pub & Restaurant
Pat Murnane's Irish Pub
Best Italian Restaurant
Caffe Luna
Vivace
Milton's Pizza & Pasta
Best Indian Restaurant
Cheeni Indian Food Emporium
Lime & Lemon Indian Grill & Bar
Bazil Indian Cuisine
Best Mexican/Latin American Restaurant
Gonza Tacos Y Tequila
13 Tacos & Taps
Chido Taco
Best Restaurant For Specialty Diets
Sassool
Irregardless
Happy + Hale
Best Healthy Dining
Sassool
Happy + Hale
Irregardless
Best Neighborhood Bar
Dram & Draught
Real Mccoy's
The Cardinal Bar
Best Sports Bar
Carolina Ale House
Backyard Bistro
Players Retreat
Best Outdoor Dining
Taverna Agora
Wye Hill Kitchen & Brewing
Mulino Italian Kitchen
Best Craft Brewery
Brewery Bhavana
Raleigh Brewing Company
Crank Arm Brewing Company
Best Caterer
Catering Works
Rocky Top Hospitality
City Barbeque
A Place at the Table
Best Nonprofit
As the winner for Best Nonprofit, A Place at the Table — a nonprofit café located in downtown Raleigh — clearly has a special place in the hearts of our readers.
"A Place at the Table is Raleigh's first pay-what-you-can café with a mission to provide community and good food for all, regardless of means," said Founder and Executive Director Maggie Kane. "We opened in January of 2018, Tuesday through Sunday, 8 a.m. to 2 p.m., serving breakfast and lunch with pay-what-you-can pricing. is means diners can pay the suggested price, pay more and pay it forward, pay less, or pay by volunteering."
By reinventing how to feed a community in which 1 in 7 residents suffers food insecurity, over $62,000 worth of meals have been donated since 2020.
"We are humbled by this award and thankful for this community's belief in us," said Kane. "We would never have opened in 2018 and could not still be here today without this community's support. Thanks to all of you for continuing to show up to dine with us, volunteer, and donate. We are so grateful!"
Raleigh FoodTrap
Best Social Media Account
When it comes to discovering good food in the area, Briana and Roger Kornegay — the social media gurus behind Raleigh FoodTrap — are kind of a big deal.
With almost 90,000 followers on Instagram and 110,000 on TikTok, plus a new YouTube channel, this account has taken the local foodie world by storm thanks to their fervent promotion of local businesses.
"We love sharing local foods that deserve recognition," said the Kornegays. "We look for the area's craziest burgers or the area's BIGGEST pancakes. We love showing the city's best brunches and more! We are now on a binge to show more than just food. With two kids, we enjoy showing great places to play, sleep, and have fun as well."
COMING SOON: The Kornegays have recently announced their first "Food-Trappy" food establishment — The Yard Milkshake Bar.
"As seen on Shark Tank back in 2019, we are STOKED to bring this over-the-top milkshake and ice cream experience to downtown Raleigh in late summer 2023," said the Kornegays. "One thing we know is GOOD food, and we've searched high and low to nd this one and believe it's one of the country's best and yummiest ice cream experiences! Stay tuned for more details on that."
@RaleighFoodTrap
Stray Volts
Best Music Group
Local rock band Stray Volts might not be as big as Linkin Park (yet), but in the end, it doesn't even matter. As this year's winner for Best Music Group, they are obviously hitting all the right notes.
"Winning this award is an incredible honor, and we're grateful for the recognition," said Marcel, Lead Guitar & Audio/Video Engineer. "It's also a pleasant surprise, as we didn't actively campaign for it. We won because our fans took the initiative and wrote in their favorite band, and we're truly humbled by their support. Winning also gives us the motivation to keep pushing ourselves as performers in order to deliver the best possible show every time we play."
With Angie on lead vocals and guitar, Jeremy on drums and lighting, John on bass and vocals, and Marcel on lead guitar, Stray Volts delivers a concert-like experience that is more than just live music — it's an energetic performance that breaks the barrier between the stage and crowd.
Erica DeLong
Best Local Radio Personality
A lot has happened since Erica DeLong arrived on the local radio scene nearly two decades ago! After years of co-hosting G105's The Showgram, DeLong eventually snagged her own show — G105's The Erica Show, weekdays from 1–5 p.m. When she's not hitting the airwaves or the red carpets as an influencer for ABC 11-WTVD, DeLong contributes columns to not one, but two of our publications: Wake Living and Cary Magazine.
"What an absolute honor to win the Readers' Choice Award," said DeLong. "I love this job because it allows me to be involved in our community, our extended family. Our community is made up of wonderful, loving, trailblazing people, and it's a blessing to serve. Thank you."
COMING UP: On the Go, a new podcast with Erica DeLong. Follow her on social media, radio, and television for updates!
Lifestyle
Best Public School
Broughton Magnet High School
Brooks Museum Magnet Elementary School
Quest Academy
Best Private School
Ravenscroft School
Saint Mary's School
The Raleigh School
Best Active Adult Community
The Cypress Of Raleigh
The Cardinal At North Hills
The Cambridge At Brier Creek
Best Nonprofit
A Place At The Table
Second Chance Pet Adoptions
I Am Worth It Foundation
Best Preschool
North Raleigh
Christian Academy
Everbrook Academy
Thales Academy Preschool
Best Interior Design Company
Colorful Concepts Interior Design
Style By Camara
Beyondblue Interiors
Best Music Venue
Red Hat Amphitheater
Lincoln Theatre
Coastal Credit Union Midtown Park
Best Local Event Or Festival
Ibma World Of Bluegrass
Brewgaloo
Hopscotch Music Festival
Best Local Music Group Or Artist
Stray Volts
The Embers
Thrio
Best Coworking Space
The Loading Dock
The Work Hall
Hatch Coworking Office
Best Elementary School Principal
Wanda Evans, Thales Academy Knightdale
Annice Williams, Bugg Magnet Elementary School
Bob Grant, Washington Elementary
Best Middle School Principal
Briana Pelton, Oberlin Magnet Middle
Kelly Aman, West Milbrook Magnet Middle
Kiley Brown, Wakefield Middle
Best High School Principal
Elena Ashburn, Broughton High School
Aaron Sundstrom, Ravenscroft Upper School
Keith Richardson, Knightdale High School
Best High School Coach
Jere Morton, Broughton High School Baseball
Deshannon Morris, Grace Christian Basketball
Wallace Clark, Heritage High School Football
Best Place For Outdoor Recreation
Umstead State Park
JC Raulston Arboretum
Pullen Park
Best Place For Family Fun
Marbles Kids Museum
Klaysation
Rush Hour Karting
Best Fitness Program
O2 Fitness
Triangle YMCA
Orangetheory Fitness
Best Yoga/Pilates Studio
Pulse Pilates
Alchemy Hot Yoga
Bliss Body Yoga
Best Kids' Program
North Carolina Fc Academy
Ymca Of The Triangle
City Ballet
Best Track-out Or Summer Camp
Flour Power
Camp Kanata
Klaystation
Best Local TV Personality
Don Schwenneker
Elizabeth Gardner
Debra Morgan
Best Local Radio Personality
Erica Delong
Sarah King
Kc O'dea
Best Nc Hotel Or Resort
Heights House Hotel
Blockade Runner Beach Resort
Chetola Resort
Best Social Media Account
Raleigh Foodtrap
The Holderness Family
The Vegetarian Couple
Best Local Podcast
Finest Worksongs
Nc F&b Podcast
The Holderness Family Podcast
Dr. Jason Gladwell, Gladwell Orthodontics
Best Orthodontist
With locations in Wake Forest, North Raleigh, Downtown Raleigh, and Southpoint Mall, Dr. Jason Gladwell and his team at Gladwell Orthodontics have fought tooth and nail for this year's title of Best Orthodontist.
"To me, anytime we win an award, it's a testament to our team and a great indication that we are hitting our goals of providing the best clinical care in the best environment possible. Changing lives and creating beautiful smiles," said Dr. Gladwell.
Gladwell Orthodontics specializes in orthodontic treatment for children and adults, and is the No. 1 Invisalign provider in the country. All of Gladwell's new patient exams are complimentary, and he encourages every patient to make an appointment starting with children at age 7.
"Long gone are the days of waiting until children lose all of their baby teeth before being seen," said Dr. Gladwell. "We want to take a much more modern and proactive approach to preventing problems instead of just fixing them. We pride ourselves on having the most modern and comfortable offices in the state. With private treatment rooms and a free Starbucks charity café in every location, we look to make all patients' visits, young or old, memorable and relaxing."
Reverie Hair Co.
Best Hair Salon
As the winner for Best Hair Salon, it seems that Reverie Hair Co. — located in Northwest Raleigh in the Stonehenge shopping center — is a cut above the rest.
After years as a hairstylist in a commission salon and as a suite renter, owner Tiffanie Whitt dreamed of having her own inviting space where guests could feel at home and leave feeling relaxed and beautiful.
"The salon is a new concept that blends the ease and support of commission with the flexibility of rental," said Whitt. "We are a salon on a mission to change the reputation of commission salons. I wanted an atmosphere where guests could receive quality services in a comfortable, modern environment. Dreaming up this space is also what inspired the name, Reverie, which means daydream."
Reverie became reality on May 26, 2020, offering a range of beauty services — including hair coloring, cutting, styling and extensions, bridal styling, makeup, waxing, and facials.
"Winning this Readers' Choice Award is so exciting to the entire Reverie team," said Whitt. "Having our community show up and support us the way they have over some of the hardest years for businesses has been so heartwarming. This award falls on our third anniversary, and I think this is the perfect way to celebrate all we have accomplished. I'm so honored that your readers love us as much as we love them!"
Dirty Dogs Spa
Best Pet Services
Give a round of a-paws to Dirty Dogs Spa, this year's winner for Best Pet Services! With locations in Wake Forest and North Raleigh, and an upcoming location in Wendell, this pet paradise has been doing a pawsitively amazing job with humans and furry clients alike for over 10 years.
"I opened Dirty Dogs Spa March 2012," said owner Vanessa Davis. "My golden retriever Taylor had just turned four. He had been experiencing a lot of health issues related to allergies. After spending the past four years researching, training, and seeking all-natural remedies, I decided to open Dirty Dogs Spa to help other pet parents who were experiencing the same issues with their pets."
Dirty Dogs Spa offers full-service grooming, a self-service bathing area, and a boutique offering treats, unique gifts, and all-natural bathing and grooming products.
For those who are interested in becoming a professional pet groomer, Davis — a certified groomer and adjunct instructor at Wake Technical Community College — also offers the Dirty Dogs Spa School of Grooming, dedicated to educating and training students to be the finest groomers possible.
"It's an honor to be voted the best in our field," said Davis. "A huge shoutout to our amazing manager, groomers, and support staff who, with their hard work, amazing grooming skills, and great love for dogs, make Dirty Dogs Spa the best grooming salon."
Services
Best Auto Mechanic Shop
Atlantic Tire & Service
Creech Import Repair
King's Auto Service
Best Financial Institution
Coastal Federal Credit Union
PNC Bank
State Employees' Credit Union
Best Financial Advisor
Austin Harris, Towne Wealth Management
Lauren Harper, Livengood Strategic Wealth Advisors
Brant Spesshardt, Steward Wealth Strategies
Best Custom Home Builder/Home Renovation Specialist
Bost Custom Homes
Blue Heron Homes
DJF Builders
Best Flooring
Brentwood Flooring
Terry's Floor Fashions
Wakefield Flooring
Best Mortgage Officer
Christi Blackwood, Coastal Credit Union
Thomas Eller, North State Bank
Kendra Mccormick, Atlantic Bay Mortgage Group
Best Insurance Agent
Carter Glass, Carter Glass Insurance
Greg Suggs, Suggs Insurance
Vincent Boone, State Farm Insurance
Best Real Estate Agent
Laurie Evans, The Jim Allen Group
Steve Kruger, Linda Craft Team Realtors
Louis Guillama, Daymark Realty
Best Doctor
Laura Brown, Raleigh Capitol Ear, Nose & Throat
Stephen Tibbels, WakeMed Primary Care Wake Forest
Aaron Jarrett, Raleigh Family Practice
Best Eye Doctor
Dr. Jennifer Murphy, Mcpherson Family Eye Car
Dr. Linda Stolfo, Eyedeals Optometry
Dr. Keel Godwin, Midtown Optometry
Best Plastic Surgeon
Dr. Jeremy Pyle, Amelia Aesthetics
Dr. Michael Law, Blue Water Plastic Surgery Partners
Dr. Christopher Morea, Morea Plastic Surgery
Best Chiropractor
Dr. Brendal Epling, Back In Motion
Dr. Evan Wagoner, Wake Forest Chiropractic
Dr. Natalia Lopez, Falls Chiropractic & Injury
Best Dentist
Dr. Edmond Suh, Supremia Dentistry
Dr. Chris Pennisi, Pennisi Dentistry
Dr. Scott Earp, Scott C. Earp DDS
Best Orthodontist
Dr. Jason Gladwell, Gladwell Orthodontics
Dr. Caroline Cheek-hill, Cheek-Hill Orthodontics
Dr. Mary Morgan Keyser, Buckthal Keyser Orthodontics
Best Attorney
Linda Ward, Ward Family Law
Paul Yokabitus, Cary Estate Planning
Michele Callaway, Adams Howell
Best Hair Salon
Reverie Hair Co.
Salon Blu
Larkspur Salon Spa
Best Spa
Lorena Luca Skin & Spa
Skin Sense
White Dahlia
Best Med Spa
Blue Water Spa
Lunasol Med Spa
Amelia Aesthetics
Best Pet Services
Dirty Dogs Spa
Bayleaf Veterinary Hospital
Dog Gone Happy
Best New Home Community
Holding Village
Avalaire
Hasentree
Best Home Maintenance or Home Renovation
Window World Of Raleigh
Natural Gallery Kitchen & Bath
Island Pressure Washing
Best Home Cleaning Service
Dust And Mop
Go 2 Girls
Best Clean Ever
Taylor's Wine Shop
Best Wine Shop
If you're looking to pick up some fine wine with a side of live bait, Taylor's Wine Shop — a family owned and operated BP gas station and convenience store in North Raleigh — is ready to reel you in.
Founded by Gail and Taylor Cash in May of 1980, Taylor's has evolved and grown with the community over the past 43 years.
"We have wines to please every palate and price range," said Taylor Cash. "We pride ourselves on being THE place in Raleigh to track down the most sought-after, hard to find and collectible wines. We also have an amazing selection of delicious wines in the $10 to $25 range. We have an ever-expanding selection of microbrew and imported beers, local artisan crafted chocolates, coffees, and much more."
Whether you're swinging by for a wine tasting or some gas and a fresh, hot biscuit, Taylor's Wine Shop is a longstanding staple in our community — and for good reason.
"We host numerous charity events, fundraisers, and sponsorships throughout the year, and we give back because it is important to us," said Taylor. "Winning this award means maybe our message is getting out that we are here and we care, too. We are not your average gas station and wine shop. This award is welcomed, and hopefully we get to meet some new folks from this! Thank you for the support in winning this award!"
Unorthodox Vintage
Best New Business (Non-Restaurant)
If you enjoy vintage and secondhand finds, Unorthodox Vintage in downtown Raleigh might be the Simon to your Garfunkel. Since its opening last June, this quirky establishment has offered up an eclectic assortment of vintage and secondhand apparel with a mixture of street style, everyday wear, decade pieces, and local maker items.
Owners Alexandria Monet and Julian Jacobs (both pictured above) started selling vintage to the public in 2020 with their individual brands — She Thrifty and Sir Chance's — before teaming up for the birth of their retro paradise.
"Beyond clothing, we want Unorthodox Vintage to feel like a safe space for creatives and the community," said Monet. "It's important to us to build relationships and experiences that become a good memory for someone. Through music, education, and events that we house in our intimate location, we plan to be that safe space and fuel our community with love and passion!"
"Shop local and come check us out," added Jacobs.
@unorthodoxvintage
Swagger
Best New Clothing
True to their name, the winner for Best New Clothing swaggered its way into the hearts of our readers. Opened as a small gift shop in 2002, the original store carried everything from jewelry and handbags to home accessories. In 2011, Swagger expanded and started selling trendy, affordable clothing. Now with two locations in Cary and Raleigh, Swagger continues to thrive thanks to Mandy Becker, whose passion for gift shops started when she was 16 years old.
"I'm from a small town in Georgia with only one gift shop, and I loved it," said Becker. "I loved the feeling I got when I went in there. I loved the products. I loved getting their items as gifts. And I loved how the recipients always loved them. That's kind of how I fell in love with the whole gift store idea."
Two years after receiving her engineering degree from Georgia Tech, Becker opened Swagger and established quite the presence in the Triangle by interacting with regulars and providing gifts and clothing for all occasions.
"I love our customers. I love our staff. It's just a really fun job to have," said Becker. "I love waking up every morning and coming to work, because it's always going to be different."
Shopping
Best New Business (Non-Restaurant)
Unorthodox Vintage
Local 919
Copperline Plant Co.
Best New Clothing
Swagger Boutique
The Gatorbug
Paisley Boutique
Best Resale Shopping
Revolver Consignment Boutique
Father & Son Antiques
Unorthodox Vintage
Best Florist Shop
Fallon's Flowers
North Raleigh Florist
Watkins Flowers Of Distinction
Best Home Furnishings and Décor
Furnish
Steven Shell Living
Furnish This
Best Garden Center
Homewood Nursery & Garden Center
Logan's Garden Shop
Campbell Road Nursery
Best Gift Store
Deco
Zest Café & Home Art
Swagger Boutique
Best Jewelry Store
Bailey's Fine Jewelry
Diamonds Direct Crabtree
Johnson's Jewelers Of Raleigh
Best Shopping Center
North Hills
Village District
Crabtree Valley Mall
Best Specialty Foods Store
The Butcher's Market
Sassool
Savory Spice Shop
Best Pet Store
Phydeaux
Pet Supermarket
Unleashed
Best Wine Shop
Taylor's Wine Shop
Wine Authorities
Raleigh Wine Shop
Best Bottle Shop
Bottlemixx
Peace Street Market
Hoppy Endings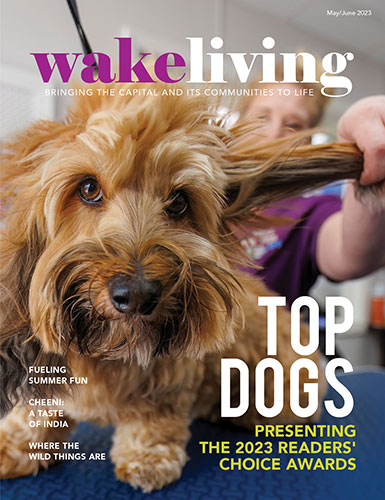 Presenting the Wake Living Readers' Choice Awards