Craving a wildlife fix? The North Carolina Zoo isn't the only option! Just over an hour up the road, the Greensboro Science Center (GSC) is NC's only dually accredited AZA (Association of Zoos and Aquariums) and AAM (American Alliance of Museums) science attraction — an honor only 14 attractions in the nation can claim. In addition to being home to 2,852 individual animals and 298 species, GSC offers a new zipline course, evening laser shows in OmniSphere Theater's 40-foot dome, live adventure theater shows, and much more.
"We have lots to do, like exploring our aquarium, museum, and zoo. Guests can also check out our high ropes course, SKYWILD, soar over Country Park on our FLYWAY zipline, and take a ride on the Rotary Club of Greensboro Carousel," said PR & Digital Marketing Coordinator Bekah Robinson. "We also offer special educational classes and camps throughout the spring, summer, and fall."
As part of a recent visit, we enjoyed two VIP Experiences, or custom private animal encounters that are available upon request. Don't worry, we didn't score these because of our sweet magazine connections — these are available to all visitors at the zoo, with prices starting at $125 per person for a 45- to 90-minute experience.
During our Cat House VIP Experience, we met four species of small cats: fishing cats, servals, a sand cat, and a black-footed cat. Yes, they are all adorable, but before you stuff Layla the sandcat in your purse to be your cuddle buddy (which I may or may not have considered), think again.
"These guys do not make good pets," said Megan Hankins, GSC's primary keeper for lemurs and small cats. "I know they're in captivity and they seem nice and chill and pretty and sweet, but they are still wild animals with wild behaviors and wild tendencies."
GSC's octopus, hippos, red pandas, and tigers are some of the most popular animals — but the behind-the-scenes penguin experiences are particularly sought-after. Our second VIP Experience included a visit with Newt and Raven, GSC's two African penguin ambassadors. Interested visitors can opt for a Penguin Encounter like ours or a Penguin Feeding Experience. Either way, you're sure to fall in love and learn all about the penguin colony drama — like how Deacon left Raven for a younger penguin, despite being a bonded pair. #JusticeforRaven
"For someone who is visiting for the first time, I'd highly recommend catching a morning or afternoon penguin talk or a Shark Reef dive show," said Robinson. "I'd also recommend Revolution Ridge, our zoo expansion, which opened in 2021 and includes an okapi, southern cassowaries, and pygmy hippos!"
For younger visitors, the expansion of the Kiwanisaurus Treehouse Adventure is open and ready for playtime! A three-story treehouse and observation deck has been added to the already existing four treehouses and crow's nests, interconnected by a series of bridges, net climbing structures, hoops, logs, and steps. The new treehouse features a climbing wall, obstacles, and another slide — allowing children to explore the local wildlife around them as they climb.
Speaking of kids, families won't want to miss Mystery of the Mayan Medallion, a unique traveling exhibit opening in June. This immersive experience will transport you to Palenque, Mexico, where an archaeological team has mysteriously disappeared from a dig site while investigating a priceless jade medallion buried in the ruins. Parents and children can follow clues the team left behind to locate the precious medallion.
"This exhibit uses the mystery and intrigue of the Mayan empire to explore math, science, and history in a unique and interesting way sure to capture the attention of all who visit," said Robinson. "Visitors will learn about the culture of the Mayans and the science behind archaeology."
Now that the weather has warmed up, events at GSC are in full SPRING — the Butterfly House will reopen on May 20 for the general public, and a new Sensory Trail, designed to engage the senses and connect guests to the natural world, will soon make its debut.
Note to bird lovers — GSC's free-roaming peacocks are now in full "bloom." Male peacocks shed their tail feathers towards the end of the summer, so plan your trip soon!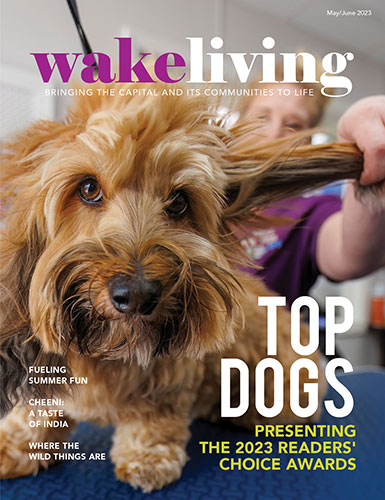 Down the Road: Greensboro Science Center