Preeti Waas, chef and owner of Cheeni Indian Food Emporium in North Raleigh, was at home in her pajamas working on payroll this past January. Her restaurant was not yet a year old, and despite some incredibly positive press the previous fall (Eater had named it the North Carolina Restaurant of the Year), Waas was dealing with what many restaurants experience each year after the holiday season: the winter lull. Business was down, and as a brand-new restaurant Cheeni was still operating in the red. Waas self-funded the restaurant, meaning there were no investors to call for an extra infusion of cash.
"It had been a very slow few weeks, and I was very worried, honestly," Waas recalled.
Then her cell phone rang. It was a journalist from the Triangle Business Journal looking for a quote from Waas about her reaction to the list of semifinalists for the 2022 James Beard Awards — the Oscars of the food world. Waas had been nominated for Best Chef, Southeast.
"I was like, what is this about?" Waas said. She didn't believe it, so she told the journalist she'd call back. She hung up the phone, gathered her family, and verified that yes, indeed she was a semifinalist for one of the most prestigious awards in the world.
"Everything went to white noise," Waas recalled. She was floored. "It was never on my radar. I'm a home cook!"
To understand Waas and Cheeni Indian Food Emporium's meteoric rise, it's best to start at the beginning. How did a self-professed home cook go from stay-at-home mom to operating one of the most buzzy restaurants in North Carolina in a matter of years?
Waas grew up in Madras, known today as Chennai. The coastal city in southern India is a famous destination for South Indian cuisine, with an emphasis on seafood, a strong street food tradition, and a streak of spicy heat running through most every dish. When she married and moved to the United States (Los Angeles, Oklahoma, and now 11 years in the Triangle), she didn't recognize the Indian food she saw here. She was an accomplished home cook, but in an effort to fit in and to appeal to her family, she leaned heavily on American classics instead of the cuisine she grew up with.
"I set aside my Indian-ness in terms of food," Waas said. She would occasionally cook Indian meals for her two daughters, but mostly stuck to Western food. (Her chocolate chip cookies, famous among her family and friends, are a constant presence at Cheeni today.)
Fast-forward a few years, and the opportunity to run a small café inside the downtown Raleigh YMCA popped up. Waas' daughters were older, and she didn't need to be home all the time, so she jumped at the chance to create a business for herself. She didn't want to open just another coffee shop, so she leaned into her roots and opened Cheeni Chai + Coffee + Tiffin, a nod to the ubiquitous corner stores and tea shops across India.
Shortly after opening in late 2019, however, the Covid-19 pandemic shut the world down, Cheeni included. Waas spent the first part of lockdown imagining a new business based on her original concept, and when the YMCA once again approached her in 2021 — this time about a spot in the Alexander YMCA on the campus of NC State — Waas was ready to dive back into things.
By the time she was ready to open the new Cheeni, Waas had built a loyal following of customers who would regularly visit for unique café offerings found nowhere else in the Triangle, if not the entire state. Waas carried this dedication to cooking her food, her cuisine, and not giving in to trends with her when she opened Cheeni Indian Food Emporium.
That year of research she did during lockdown led her to believe she had a concept no one else was even attempting.
"What Indian restaurant has a lot of desserts?" Waas asked. "What Indian restaurant teaches you how to make the food you're eating?"
The pandemic wasn't her only obstacle. Waas remembers making a Facebook post about why she doesn't serve tikka masala at Cheeni. The comments came flooding in, with complete strangers chastising her. She remembers one comment in particular, from a woman who wrote, "Your job is to get into the kitchen and cook what you're told to cook."
For someone relatively new to the restaurant scene, criticism like that can be devastating. Waas, however, is a different breed of cook. The more pushback she received, the more it strengthened her resolve to cook and serve the food she knew.
"I don't need to educate somebody who refuses to open their mind," Waas said. "Don't put my cuisine in a box."
To that end, a visit to Cheeni is unlike a visit to most any other Indian restaurant. For starters, you don't get to pick a spice level. The staff (including Waas' daughter) is more than happy to explain each dish in detail and help diners choose something that fits their palate, but substitutions are not allowed. All dishes are served the way Waas intends them to taste. You are, after all, essentially eating in her home.
Though navigating the waters of being an Indian restaurant unlike other Western Indian restaurants, while at the same time not being "Indian enough" for some of her Indian customers, poses difficulties, Waas has managed to build a dedicated following that has skyrocketed her and Cheeni to the top of the state's restaurant scene.
On a recent quiet weekday, North Raleigh residents Tina Sullivan and Michelle Rosoff sat at a booth, nibbling on snacks and working on some artwork. Sullivan said she comes to Cheeni four or five times a week. "It's a place I go to relax," Sullivan noted. "It's a community."
That right there is what Waas was going after when she opened Cheeni. She didn't seek fame. It wasn't a vanity project. And she certainly didn't open it to get rich. What she hoped to create was a community, to invite people into her home to gather and learn over delicious food that reflects her roots.
Waas paused for a moment when asked what she hopes customers feel when they come to Cheeni. "Nourished," she said after a moment. "I don't merely serve Indian food; we really do nourish people with our food."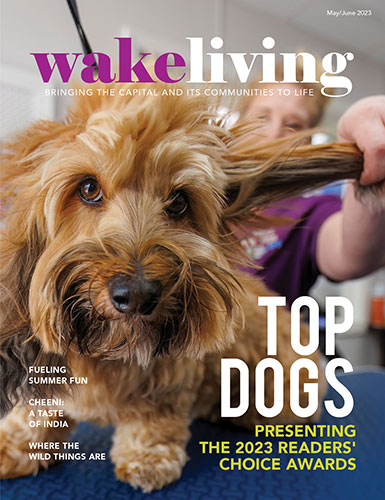 Cheeni: Indian Food the Waas Way