1. 175 artists from across the country will coalesce at Raleigh's longest-running juried art market, Artsplosure – The Raleigh Arts Festival. Browse ceramics, glass, fiber art, jewelry, paintings, photography, and much more, plus one-of-a-kind art installations throughout downtown. Kidsplosure will feature crafts for children, and national and local artists will perform all day. Saturday, May 20, 11 a.m. to 7 p.m. Sunday, May 21, 10 a.m. to 6 p.m. Downtown Raleigh.
2. The Got to Be NC Festival will offer "three great days of down-home celebration, North Carolina-style" with food companies, breweries, distilleries, and wineries from throughout the state sampling and selling their wares. Expect parades and tractor pulls daily, plus rides, exhibits, and other free family fun. Friday, May 19, noon to 10 p.m. Saturday, May 20, 9 a.m. to 10 p.m. Sunday, May 21, 9 a.m. to 8 p.m. North Carolina State Fairgrounds. gottobencfestival.com
3. Set your sights on the stars! Observe Venus and Mars, plus other celestial beauties, with the Morehead Planetarium & Science Center and Raleigh Astronomy Club. Head to the Big Field for Skywatching at Dix Park, and enjoy music from the Triangle Sax Ensemble to set the mood. Saturday, May 20, 9-11 p.m.
4. Pay your respects to those who made the ultimate sacrifice at a Memorial Day ceremony sponsored by the Marine Corps League Tar Heel Detachment #733. Monday, May 29, 11 a.m. NC State Capitol.
5. Experience art, culture, tradition, and LOTS of food representing over 50 countries at Raleigh's International Food Festival. Pick up a food passport and collect stamps from food trucks showcasing traditional cuisine from Azerbaijan to Venezuela. Wear your '70s and '80s attire for a chance to win a spirit award, or just have fun at the outdoor international dance party. Saturday, June 3, 11 a.m. to 9 p.m. City Plaza.
6. Calling kids from 2 to 100! Celebrate International Children's Day at the City of Raleigh Museum with a day of storytelling presented by the Friends of the City of Raleigh Museum in collaboration with Artist Studio Project and NC Vibes. Visit the craft table in between presentations from puppeteers, dancers, and storytellers in both English and Spanish. Saturday, June 3, 10 a.m. to 3 p.m. 220 Fayetteville St.
7. Who doesn't love Beer, Bacon, and Bluegrass? Two of the three are free (you'll have to purchase the beer, but it's worth it) at Oaklyn Springs Brewery. Music presented by the Cackalacky Hackers. Sunday, June 4, 3-6 p.m.
8. Get your geek on, or just come hungry to the Geek & Grub Market, Pride Edition. Participate in a free family-friendly scavenger hunt, purchase fun gifts from geeky merchants, and grab a mocktail at the Geek Tavern, plus other themed competitions and activities. Saturday, June 10, 6-10 p.m. Mordecai Historic Park. geekandgrubmarket.com
9. Celebrate the end of the school year at a Summer Block Party hosted by Brookside Bodega and The Optimist. Their parking lot will be filled with food trucks, live music, vendors, kids' games, and more. Saturday, June 10, 2-6 p.m. 1000 Brookside Drive.
10. Support the LGBT Center of Raleigh's 20+ community programs at Out! Raleigh Pride. The 11th annual event offers live entertainment, local vendors and artists, a KidsZone, a beer garden, and lots of family-friendly activities. Saturday, June 24, 11 a.m. to 6 p.m. Fayetteville Street. outraleigh.com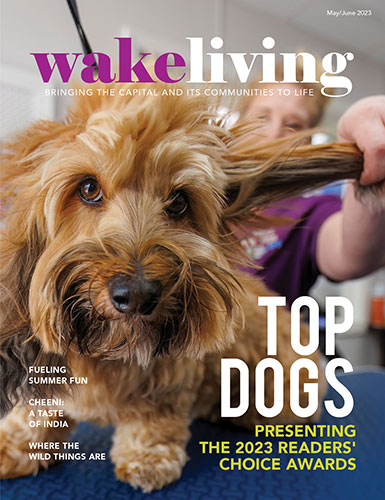 Out & About in Wake County: May / June 2023