2 oz. Aristotle Habanero Vodka
1 oz. House-made pineapple syrup
Fresh basil
Hickory chips
Fresh pineapple
Tajin seasoning
Muddle the basil in a mixing glass. Add the vodka, pineapple syrup, and ice. Stir for 30 seconds. Strain into a lowball glass without ice (neat). If you have a cocktail smoker, place it on top of the glass and light some hickory chips, allowing the smoke to mingle with the drink; otherwise, place the lit chips under a dome with the drink. Garnish with a Tajin-dusted pineapple wheel and a basil sprig.
About Aristotle Spirits: After spending years as a chemist in the pharmaceutical industry, founder Jake Howland decided to step away from the corporate environment and open his own distillery. In 2019, he founded Aristotle Spirits with a focus on the process and character of the spirits he enjoys. In the summer of 2021, it opened to the public in Garner — a drinking experience founded in precision and classical distilling processes and made with the highest quality North Carolina ingredients. Visit the distillery and tasting room at 105 Rand Road.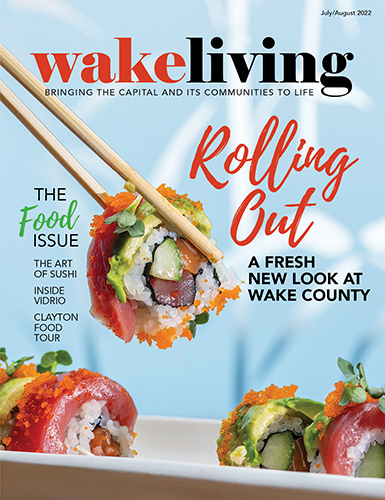 Celebrated Spirits: Up in Smoke