There's nothing better on a hot summer day than a heaping scoop of ice cream, a fruity popsicle, or a loaded milkshake. In Wake County, we are fortunate to have a wide range of frozen delicacies to tempt your sweet tooth. Check out these five frozen treats to beat the heat.
Howling Cow Ice Cream
It doesn't get much more local than a visit to the Howling Cow Dairy Education Center and Creamery. Located on NC State's 329-acre dairy farm off Lake Wheeler Road, this is a true cow-to-cone operation. "At the dairy farm, dairy processing plant, and sales store, the students, faculty, and staff all participate," said Carl Hollifield, director of NC State's Dairy Enterprise System.
The process starts by feeding, caring for, and milking the farm's 150 cows, after which the fresh milk is taken to the processing plant to make a variety of flavors, which they sell in the creamery — everything from a single $4 scoop to an ice cream sandwich or sundae. Howling Cow's most popular flavor is Wolf Tracks, a vanilla and fudge-swirled ice cream with mini peanut butter cups. Another fan favorite is Campfire Delight, which is like a s'more with marshmallows, chocolate, and graham crackers.
When asked what the secret is to their delicious offerings, Hollifield simply said, "No secret, just fresh local milk from NC State cows."
Ice cream lovers of all ages began enjoy Howling Cow when it debuted at the North Carolina State Fair in 1978 (and fairgoers today still wait in long lines to get a scoop), but you can now purchase it at the creamery seven days a week or by the pint at Harris Teeter.
Try Your Hand at Churning!
Get out your ice cream maker. Hollifield shares a simple recipe you can make at home.
Ingredients:
1 ½ cups heavy cream
1 cup whole milk
1 cup granulated sugar
2 egg yolks
Mix the ingredients well in a double boiler just until the temperature reaches 175 F, then chill the mixture overnight. Add flavor, such as vanilla, just before churning in your favorite ice cream churn.
Pictured: The Union Special Cookie at Howling Cow Dairy Education Center and Creamery features chocolate chip cookies around mint chocolate chip and strawberry ice cream.

Geluna Gelato
From their travels throughout Italy, Geluna Gelato owners Diana and her husband, Warwick, have had access to plenty of gelato. It was during a trip to Warwick's hometown of Brisbane, Australia — when the heat had them seeking out a cool scoop of gelato — that they were inspired to open their own shop. As an avid at-home cook and baker, Diana was comfortable with the idea, but the pair wanted hands-on training and education, so they enlisted in a three-week course at Carpigiani Gelato University outside of Bologna, Italy. They trained in Australia, as well.
At their shop in downtown Cary, which opened this April, the focus is on gelato made the artisanal Italian way — fresh and in small batches with local milk and cream, and no artificial colors.
"We rewrite our own recipes and don't buy a prepared base," said Diana. "Our milk and cream comes from NC State, and when we call to order some, the students actually go out and milks the cows. It all makes for a very different offering."
So what exactly is the difference between gelato and ice cream? "The main difference is that they use the same ingredients, but in different ratios," explains Diana. First, authentic gelato is made with more milk and less cream than ice cream, so it has less fat. Second, gelato is churned more slowly, so it incorporates less air. Lastly, gelato is served at a temperature of about 10 to 15 degrees warmer than ice cream. With less fat, less air, and a warmer serving temperature, the result is smoother on the tongue with a more intense flavor sensation.
This summer, look for Geluna Gelato to be scooping between 10 to 12 rotating flavors that may include fresh, local blueberries, raspberries, and peaches. "We'll be very fruit-driven this summer," said Diana.
Andia's Monster Milkshakes
Andia and George Xouris, owners of Andia's Ice Cream (with two Cary locations) really know their stuff. Last November, Andia's took home the Grand Master Ice Cream Maker Award, which rewards excellence in manufacturing practices, food safety practices, and product quality demonstrated consistently over time. In order to qualify for this prestigious award, they had to have won blue ribbons at three different North American Ice Cream Association conventions within a five-year period. Their French Vanilla was the third blue ribbon winner in 2020, allowing them to take home the Grand Master title. They are only one of 10 companies in the entire country to have this title — and the first in North Carolina.
With this base of ice cream excellence, they started making their Monster Milkshakes when they opened their first retail store five years ago. "I saw it at other places and wanted to create my own version because I saw no one was doing it locally," said Andia.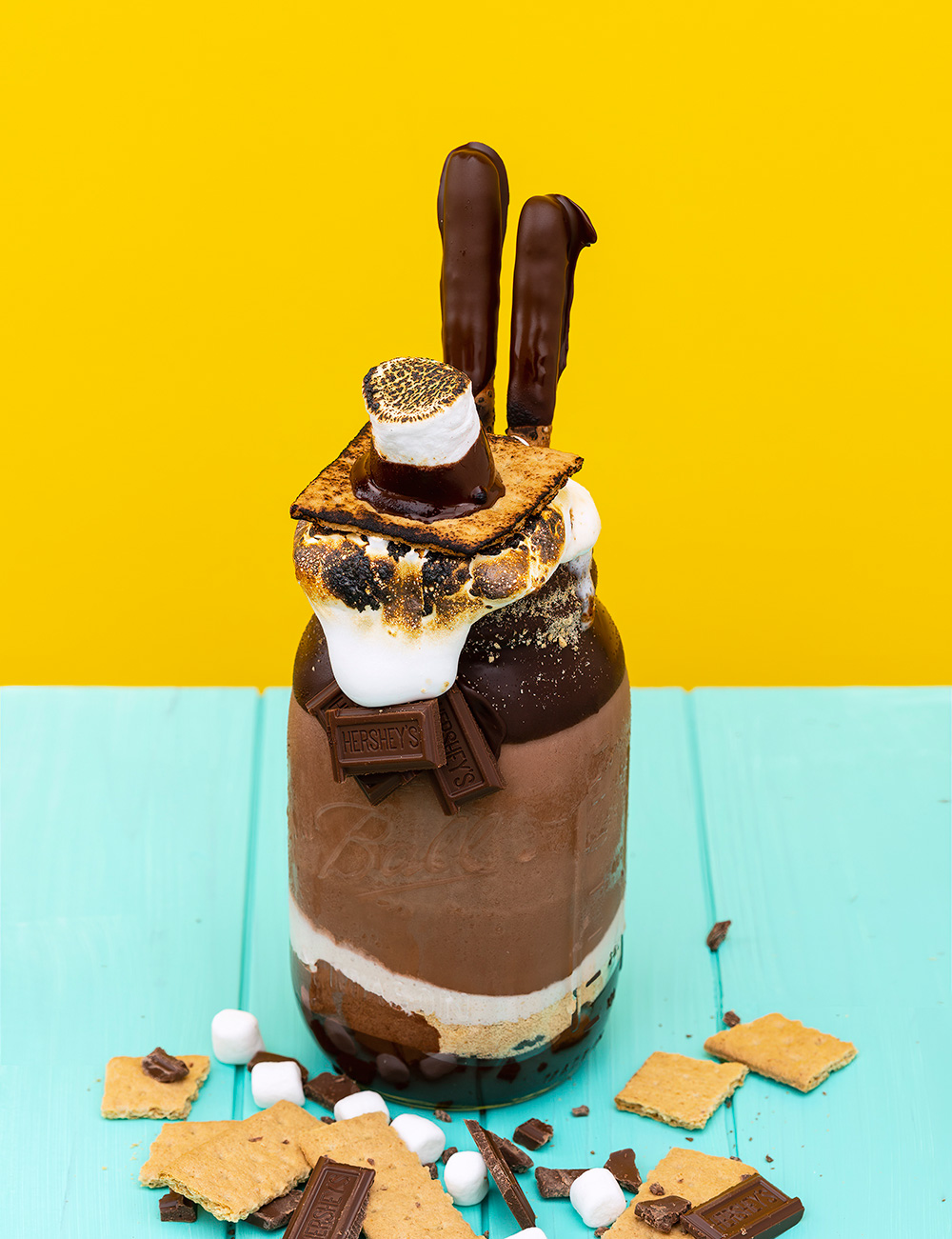 When they rebranded in April 2021, they added four flavors to their permanent menu, and rotate in monthly specials four to eight times a year. Served in a quart-size souvenir Mason jar, Monster Milkshakes are certainly not for the calorie conscious, but boy are they big, beautiful, and delicious. And according to Andia, the size does not intimidate most from getting one just for themselves.
"Most people get their own as a splurge," she said, adding that folks often order the milkshake for a celebratory purpose, like a birthday or graduation.
Using "super-premium" ingredients, Andia's always offers Batter Up (a cake batter shake with three mini cupcakes, a rainbow sprinkle rim, whipped topping, and caramel drizzle), Double Stuff (an Oreo milkshake, with three Oreos, Oreo rim, whipped topping, and a Hershey's syrup drizzle), Just Dough It (a cookie dough shake with cookie dough bites, a chocolate sprinkle rim, two waffle edges, whipped topping, and Hershey's drizzle), and Torched S'more (a double dark chocolate shake with three torched marshmallows, a graham crumb rim, whipped topping, and Hershey's drizzle).
This summer, look for a Shirley Temple float for June and a Butter Beer in July to honor Harry Potter's birthday.
So what's next for these award-winning ice cream inventors? Through continuing education and a concerted effort to stay up on the trends, "We always have something brewing," says Andia. "That's part of the fun."
Don't Forget About Fido!
Frozen treats aren't just for people — dogs love them, too! While a lot of dairy may upset their tummy, a few licks should be all right. At Bruster's Real Ice Cream (with locations in North Raleigh and Apex), your pup can enjoy a free small scoop of vanilla topped with a dog biscuit. At pet supply shop Phydeaux (with locations in Raleigh and Cary), opt for goat milk frozen yogurt (plain or with coconut — and good for cats, as well) or frozen yogurt cups in the flavors of apple juice and cheddar or banana and peanut butter. These also offer digestive enzymes.
Whatever you choose, just make sure to pace your pup so they don't get brain freeze!
Raleigh Popsicle Company
Eating a popsicle requires a delicate balance — you have to go fast enough so it doesn't drip down your fingers, and slow enough to avoid brain freeze. But that's the fun of it! It's even more fun when you get to enjoy the creations of Nikki Jones and Cristhian Rocuts, the owners of Raleigh Popsicle Company.
Easy Peasy Popsicles at Home!
A simple recipe to try yourself, says Jones, is a nondairy strawberry popsicle. Just grab some plastic molds from an online retailer or big-box store (don't forget the sticks), cut up some fresh strawberries from the farmers market, and blend them with water and a sweetener of your choice. While cane sugar syrup is preferred, any liquid sweetener will work. Taste test before pouring into molds, add the stick, and freeze overnight. This healthy frozen treat will be worth the wait!

The husband and wife team began their business in April 2021 with a vintage bicycle cart at the Raleigh Flea Market, and one month later saw an opportunity to open a brick and mortar store at Crabtree Valley Mall (they can also be found at the Streets at Southpoint food court, Morgan Street Food Hall, and during the spring and summer at Phillips Farms in Cary on Saturdays). Although both have other day jobs, they enjoy the freedom of running their own business and bringing special treats to their customers.
"For me, there is nothing like biting into a cold, tart passion fruit popsicle on a hot summer day," said Jones. "It's so refreshing! People love the taste of the fresh fruit chunks in many of our nondairy pops, or the creamy mix of frozen fruit slices and ice cream in our peaches 'n' cream or strawberry cream popsicles. Kids, of course, love the colorful tie-dye look of our cotton candy and the whole Oreos in our cookies 'n' cream. Everyone has their favorites!"
Nineteen year-round flavors give the menu plenty of variety, but there are customer favorites. "The number one most unique flavor is blackberry cheesecake," said Jones. "Next up is probably passion fruit, peaches 'n' cream, cookie monster, watermelon, and mixed fruit, which has chunks of pineapple, mango, watermelon, and cucumber in an orange juice base."
In July, look for the American Dreamsicle, with alternating stripes of nondairy strawberry and dairy vanilla ice cream with a section of nondairy blueberry at the top, similar to the American flag.
Waves Shave Ice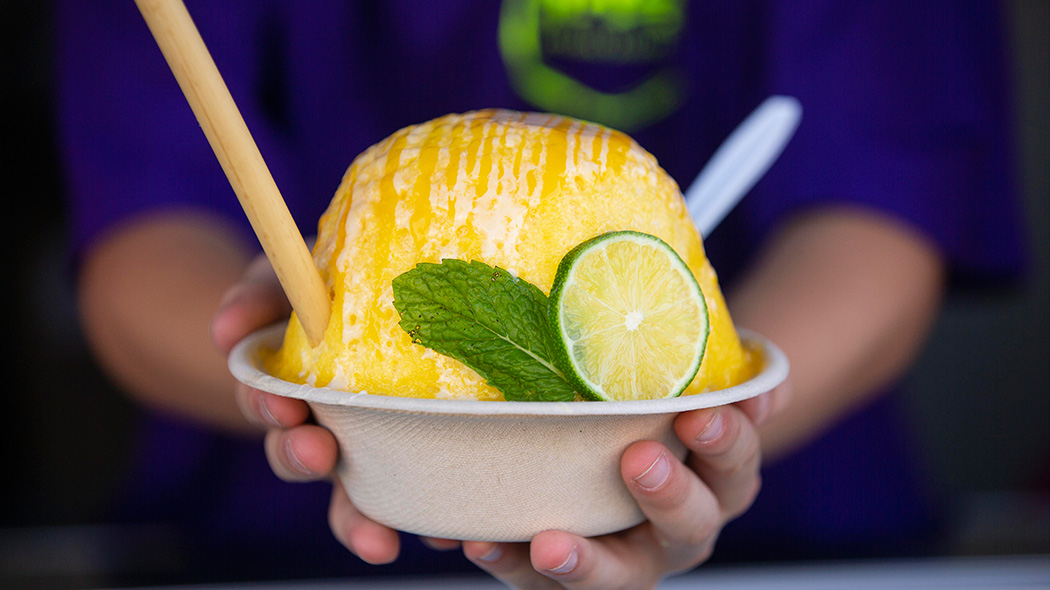 You can usually count on a food truck to provide a break from the norm. Case in point: Waves Shave Ice. Not to be confused with a snow cone, which is finely crushed ice, shave ice is shaved across a sharp blade creating a smooth, melt-in-your-mouth texture, like fluffy snow. It also absorbs the flavors better — in this case, real fruit syrups made in Hawaii with no dyes or artificial flavors.
If you really want a true island-style experience, add a scoop of ice cream to the center, and then drizzle with sweet cream or coconut cream. For a refreshing treat this summer, try the Lime Pitaya (dragon fruit). Fresh squeezed limes and real red pitaya make for a colorful and lime-flavored experience. Add a scoop of lemon or coconut ice cream and drizzle with coconut cream. Is your mouth watering yet? Visit them on Facebook to learn of their upcoming schedule, which takes them all over Wake County.