Tisha Shah, a speech therapist, and Stephanie Hall, an occupational therapist, first met while developing a PTA Diversity, Equity, Inclusion committee at Penny Road Elementary School. After sharing their concerns about health care access for the families they serve, the pair founded TheraFriends in 2021 to improve access to pediatric therapy services and programs for families in the Triangle.
We recently caught up with both Shah and Hall to learn more about their organization prior to their community launch event on Aug. 27 at Cary's Kids Together Park from 10 a.m. to 1 p.m.
What services does TheraFriends offer?
We are so excited to have launched our Inclusive Outdoor Therapeutic Playgroup this summer! Our playgroups welcome children to go back to the basics of creative outdoor play while connecting with their peers and supporting the development of their communication and motor skills. Countless studies show the benefits of being outdoors on our health, mood, activity level, senses, creativity, and concentration. We want to harness those benefits for our children by providing them the space to learn, explore, and grow together. This program is currently free of charge to families and has a growing waitlist for future groups.
This fall we will begin offering 1:1 community-based speech and occupational therapy. In the coming year, we hope to add physical therapy and developmental therapy services. We will also be offering functional visual assessments for children with cortical visual impairment. These pediatric therapy services will be offered on a sliding fee scale to ensure financial accessibility for all families. Our therapists will conduct comprehensive evaluations and partner with families to determine the needs for services, develop goals, and create a plan of care. Being out from under the thumb of insurance companies, we can focus on what children and families actually need versus them only getting what is covered by their insurance plan or what they can afford out of pocket.
Other future plans include providing community programs that support the needs of disabled children and their families, such as co-treating groups and recreational programs, support for caregivers, community building, and educational support for allied health students and professionals.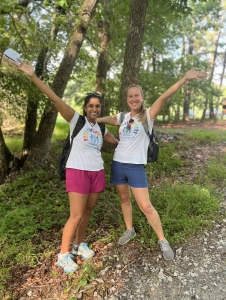 Do you have a physical location in Cary?
As a community-based practice, we will serve children in their natural environment (e.g., home, school, local park). We hope to have a central physical location in the future to hold community events, educational opportunities, and programming. We officially launched this summer, and we look forward to growing our programming this fall.
Why is TheraFriends important to the community?
TheraFriends removes financial and logistical barriers to ensure that families have access to these much-needed services so all children in our community can thrive and reach their full potential. TheraFriends embraces and fosters diversity, equity, inclusion, and accessibility within our community and throughout the fabric of our programming. We value and welcome all people and do not discriminate on the basis of race, color, religion, national origin, physical ability, neurodiversity, sex, gender identity, gender expression, sexual orientation, age, disability, or financial means. We explicitly commit to being a neurodiversity and LGBTQIA+ affirming, anti-bias, anti-racist community that supports advancing equity and justice. TheraFriends is an inclusive, safe, and welcoming environment for our staff, clients, families, and volunteers. Helping members of our community reach their full potential while feeling safe, valued, and included is our ultimate goal.
For more information on how to support TheraFriends, visit their website. If you or your business are interested in providing a scholarship or sponsorship to help them provide direct therapy services, please email the development coordinator, Naima Pettigrew, at naima@therafriendscommunity.org.