In an effort to bring a little bit of life to our lifestyle magazine, we thought we'd share some fun tidbits about Wake Living Editor Erica Hinton. If you'd like to learn more about Hinton's career, feel free to visit our about page — but if you are interested in what makes her tick (and where she would go if she could travel through time, à la Quantum Leap), read on!
Introduce yourself!
Hi, I am Erica, the Senior Editor of Wake Living and Associate Editor of Cary Magazine. I have loved writing and editing ever since I was the editor of my high school newspaper right here in Raleigh at Enloe! I am very active in the local animal rescue community, am always looking for my next travel destination, and love a good conspiracy theory (if you do too, let's talk)!
If you could time travel, where would you go?
Back to see who REALLY built the Egyptian pyramids and Mayan ruins. I just don't think humans made that happen by themselves.
Who or what have been your biggest inspirations?
Rescue dogs are some of my biggest inspirations! I have fostered 25 to date, and their resilience to overcome hardships and learn to trust and love is a great life lesson that I'm reminded of almost every day.
Favorite movie?
Vanilla Sky (I love anything that questions the idea of reality).
What is your favorite thing to do outside of work?
Spend time with my dogs (Beatrice and Frankie), cook, travel, and garden (I went a little crazy with okra this year!).
What's the last thing you watched on Netflix?
I am probably one of the few people who does not have Netflix, but on Amazon Prime I just finished American Horror Story: Hotel. Sooooo good!!
Dream travel destination?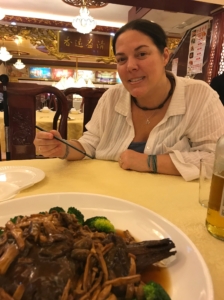 Overwater bungalow in Tahiti, Bora Bora, or The Maldives. I WILL make it one day!
Do you have any phobias?
Snakes!!! I've learned a lot about them lately in an effort to help overcome my fears, but if I see one, I still might pass out!​
Describe your perfect day.
I just got my PADI open water scuba certification in December while I was in Honduras, so a perfect day would be diving new spots, reading on the beach, and trying a new restaurant somewhere tropical.